5 Steps to an Unforgettable Indoor Scavenger Hunt
Last Updated Jun 18, 2021
This post may contain affiliate links. Please see my full disclosure policy for details.
Raindrops slowly slide down the window pane with your child's warm face pressed up against the other side of the glass. To them, the day is ruined as plans for an unforgettable time of play and imagination have been brutally slaughtered by the onslaught of Mother Nature's inconvenient rain showers. Bring in the plans for an indoor scavenger hunt!
As a parent, it's tough to see our kids go through this. Once more, rainy days can be a cause of frustration for everyone as the incessant "I'm bored!" echoes through the house. Not anymore. We'd like to show you five steps to create an indoor scavenger hunt that will provide a fun-filled activity that your kids will love!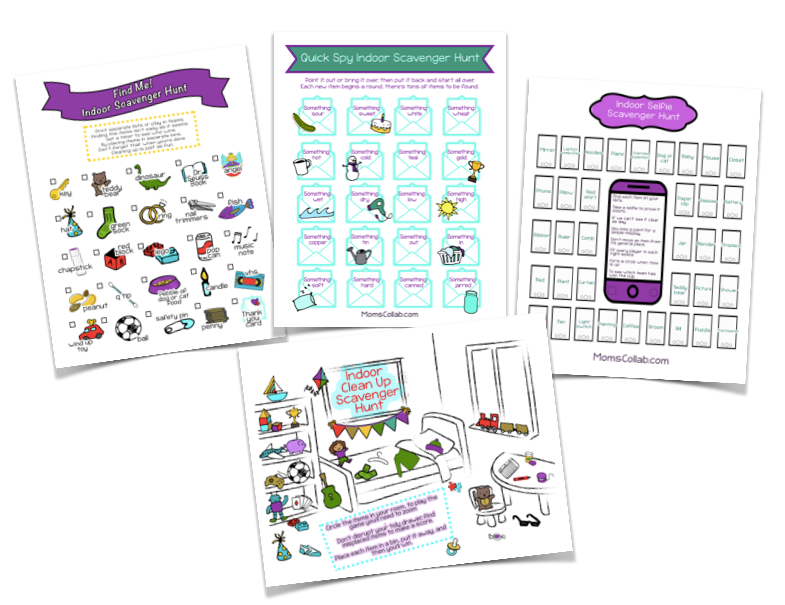 If you're in a pinch for time, consider checking out this long list of other indoor activities – some of which can be prepared in minutes.
We'll include an indoor scavenger hunt list that will open the door to limitless creativity with you and your kiddos. Let's get started.
Our Top Offers for Immediate Fun!
Paper Dolls - Spend hours coloring, cutting, and dressing paper dolls with this huge printable kit.
Math Bingo - Make learning mathematics fun for everyone with this complete kit of bingo boards, equations, answer key, and instructions.
Scavenger Hunts - Keep the kids busy for hours with these unique indoor scavenger hunts for kids of all ages.
How To Create The Perfect Indoor Scavenger Hunt
Since kids need something simple anyway, it makes your job super easy. You can have an entire scavenger hunt indoors set up in no time. It will keep the kids busy long enough to get some of your own work done!
Step 1: Choose a Theme
This step is crucial (but simple) as it is the foundation for the rest of your indoor game with kids. The theme is everything. Go all out and grab whatever odds and ends you have lying around the house to make it a great time. Whether you are a band of pirates searching for lost treasure or a team of police detectives trying to solve a crime, the theme will carry the rest of the activity.
Indoor Scavenger Hunt Ideas and Themes List
The options are limitless, but here are a few ideas that can help get you started planning the theme of your indoor scavenger hunt:
Princesses
Pirates
Detectives
Archaeologist (think Indiana Jones)
Cowboys
Game Shows (like Survivor or Amazing Race)Dinosaurs
Race cars
Easter eggs
Cats and dogs
Candy Land
Cookie monsters
Zoo
Safari
Rain forest
Mystery
Here's a little indoor scavenger hunt tip. Choose a themed wooden puzzle to structure your event around. Hide each piece of the puzzle and have the kids bring them back to the board one by one to receive their next clue or prize.
Indoor Scavenger Hunt PDF Printables!
You can DIY your own scavenger hunt by creating clues, or you can download a ready-made indoor scavenger hunt PDF for immediate fun!
Step 2: Write Out Clues
Depending on the age of your kids, this step can be somewhat of a challenge. You want the clues to be easy enough to not be confusing and yet challenging enough so that the activity doesn't last 30 seconds.
11 Fun Indoor Scavenger Hunt Clues for Kids
If you struggle at times with creativity (as we all do), here are some fun clues that can get you started.
When I'm awake, I fill the room. But when I'm asleep, you won't see me at all: the lamp
I eat everything that you don't want anymore: the garbage
I swing back and forth all day long, but I'm ignored on a rainy day: the back door
I hold something that you can't live without: the fridge
When you look at me, all you see is you: the mirror
I tumble but do not get hurt: the dryer
I make waves but not with water: the microwave
I've got soap and water but I'm not a shower. I won't work unless I've got some power: the dishwasher
Despite my name, I don't open the door: piano keys
I have four legs but don't walk: the table
The mouse ran up and down me: the clock
Again, you want this to be a time where they can think through each clue as they move around the house. You can brainstorm clues that are closely related to your theme, or you can simply use treasures and prizes that are them related. This all depends on the amount of time you have to prepare.
Step 3: Choose a Prize
This is where things can get tricky. After all, you're probably reading this having not recently gone to the toy store and loaded up on goodies for your kids. But the prize is probably the most important step (at least to the kids). Don't worry, your indoor scavenger hunt will have a great ending.
Scavenger Hunt Prize Ideas
Home-baked cookies
A big bowl of ice cream with toppings they can use to decorate
A handmade coupon or certificate (to their favorite toy store or restaurant)
Quarters or money they can put into a piggy bank or spend somewhere else
Step 4: Place Clues Around the House
You'll want the clues to be visible enough to be noticed, but not laying all around the house in the open. We suggest having the corner of the clue hanging out from under something or inside a door or cabinet.
Also, be sure to place clues in several different locations throughout the house even if they come back to the same room several times. If not, the indoor scavenger hunt will move faster. So for example, have a clue in the basement which takes them to the kitchen and then to the master bathroom and then back to the basement (this works wonders for tiring little ones).
Step 5: Have fun!
This is where you get to stand back and enjoy. You've prepared a fun indoor activity for kids and now you can bask in the enjoyment of seeing their little imaginations come to life. It may not seem like much, but to them the house just became a treasure map of fun.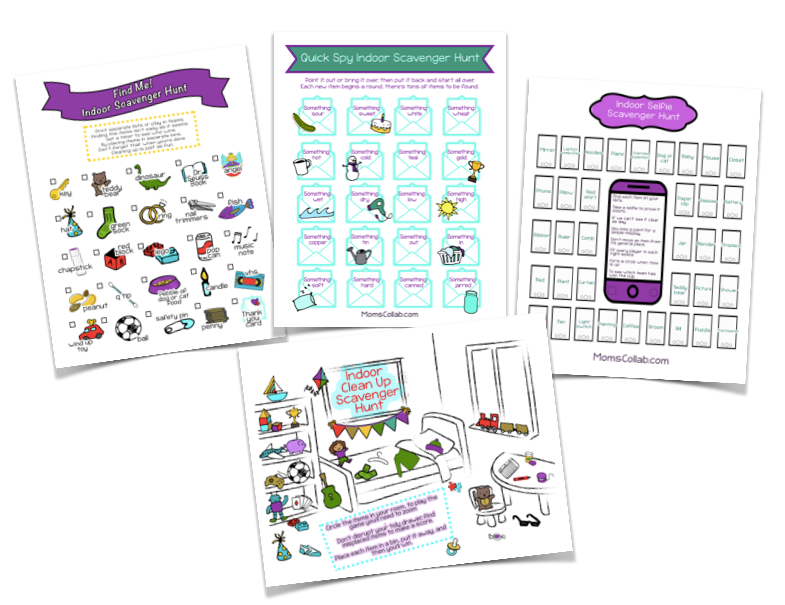 Cure Boredom with an Indoor Scavenger Hunt Game
A scavenger hunt is just one of the indoor activities for kids to enjoy on a rainy or cold day when they can't play outside. Be as creative as you want, Momma. These little ones will have an unforgettable experience and you will too! Let us know what indoor scavenger hunts you've done with your kids in the comments below!
Related: What To Do When You're Bored At Home Alone