40 Kids Activities & Essentials You Need For A Road Trip With Toddlers
Last Updated Jun 18, 2021
This post may contain affiliate links. Please see my full disclosure policy for details.
Taking a road trip with toddlers is not an easy thing to do. As a mom who has spent a lot of time in a car with small children, I know firsthand what a drag it can be.
Kids get bored when they are cooped up for so long, and then parents hear the dreaded question (over and over and over again), "Are we there yet?"
It's easy to be tempted to throw up your hands and decide to skip vacations altogether until the kids are grown. But don't give up yet! There are lots of ways to make even the longest trip a lot of fun for the whole family.
While packing for your road trip with toddlers, fill an overnight bag with toiletries and a change of clothes for everyone so you won't have to pull every suitcase out of the car if you stop for the night.
Bring tons of road trip snacks and drinks, and prepare to make lots of stops to let the little ones run around.
And stock up on these road trip essentials by following this road trip with toddler checklist to make your next trip a breeze!
Our Top Offers for Immediate Fun!
Paper Dolls - Spend hours coloring, cutting, and dressing paper dolls with this huge printable kit.
Math Bingo - Make learning mathematics fun for everyone with this complete kit of bingo boards, equations, answer key, and instructions.
Scavenger Hunts - Keep the kids busy for hours with these unique indoor scavenger hunts for kids of all ages.
Road trip activities for toddlers
Let's face it: Kids get bored really easily when they're cooped up for long periods of time. And who can blame them? Thankfully, we have come up with tons of fun ideas for long road trips that will make your kids' – and your – lives much easier.
Related post: 7 Pipe Cleaner Crafts And Activities That Are Fun And Easy For Kids
Road trip toys for toddlers
No long road trip with toddlers would be complete without a hoard of toys to keep them busy. But this list of kids' travel toys isn't just fun – it's educational, too, and that's a win in my book!
Related post: 25 Educational Toys That Will Make Your Kids Love Learning
Road Trip Games for Kids
As a parent, it's easy to resort to handing the kids a bunch of toys to keep them busy and then focusing on the road ahead. But the next time you take a road trip with your toddler, grab one (or more!) of these fun driving games that the whole family can do together. Travel and games for kids help the trip go by quicker and keep your kids happier!
Related post: 32 Money Games for Kids That Will Teach Math and Counting
Printable Road Trip Games
Perhaps printable road trip games are more enticing to your busy-minded toddler. Any one of these printable road trip games could mean the difference between peace and quiet or your sanity. I would rather print them all than go for a long road trip unprepared. Plus they are all FREE!
Road Trip Photo Scavenger Hunt is a fun and interactive printable road trip game that keeps your kids alert and engaged in the surrounding scenes.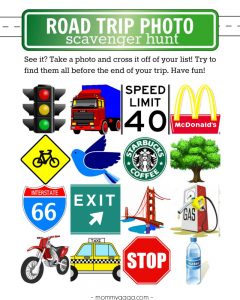 Scavenger Hunt – by Honey & Lime
This printable road trip game includes a long list of Would You Rather questions specifically geared toward toddlers and young kids.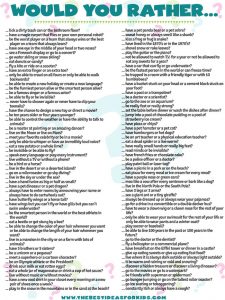 Would You Rather? – by The Best Ideas For Kids
Put together an entire binder of road trip activities for kids with this fun Busy Binder guide!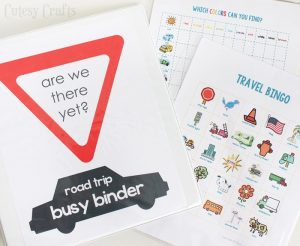 Busy Binder – by Cutesy Crafts
This I Spy printable road trip game is another activity that will keep your toddlers engrossed in the surround scenes.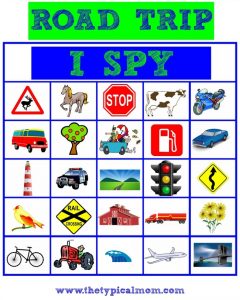 I Spy – by The Typical Mom
2nd grade+ age kids with an interest in words and letters may enjoy a more challenging License Plate Word Game printable that helps keep the mind nimble (and distracted) during a long road trip.
License Plate Word Game – by A Magical Mess
Don't forget to document your road trip with a printable family travel journal that the kids can complete on the road.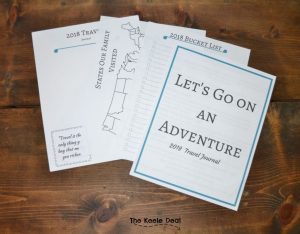 Fun Family Travel Journal – by The Keele Deal
Related: The Best Journal Starter Kit To Inspire Your Kids To Write
Road trip snacks
If your kids are anything like mine, they will demand snacks the second the car starts – whether you're headed to the grocery store or are off on a six-hour road trip. I always keep my diaper bag stocked with individually bagged snacks that I can easily hand back to my little minions. And before I head off on any road trip, I fill a box to the brim with an assortment of my kids' favorite road trip snacks that will keep them happy and their bellies full.
Easy and Fun Road Trip Snacks
This is the easy to pack list of road trip snacks that my son has enjoyed over the years:
Animal Crackers
Fruit Puffs
Healthy Road Trip Snacks
Homemade Chocolate Oatmeal Cookies are a delicious and healthy alternative to store bought cookies that are loaded with white sugar.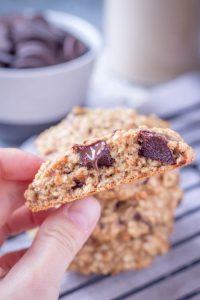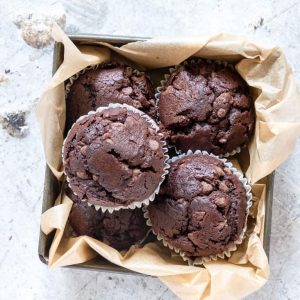 This Savory Harvest Popcorn recipe makes a great road trip snack for the kids. Just be careful – they say it's addicting!
Sundried tomatoes you ask? Yes! Both delicious and nutritious, these are perfect road trip snacks for kids to nibble on.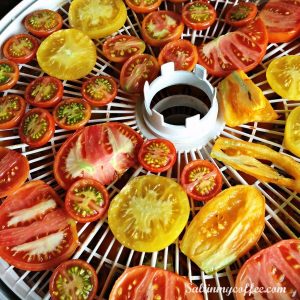 Road Trip Essentials
Before heading off on your next road trip with toddlers, stock up on these important essentials that will make those long hours in the car a breeze.
The Reality of a Road Trip with Toddlers
There's no denying that taking long road trips with toddlers can be an arduous affair. But with a little bit of creativity, a lot of patience and a couple of these fun ideas for long road trips, you (and the kids) will have a blast on your next cross-country car ride. Keep the toddlers busy, have fun, and (literally) enjoy the ride!