The Best Giant Bubble Recipe Without Glycerin
Last Updated Jun 18, 2021
This post may contain affiliate links. Please see my full disclosure policy for details.
If your kids love bubbles as much as my toddler does, get ready to blow their little minds with these magical giant bubbles! In the next few minutes, I am going to walk you through exactly how to make giant bubbles without glycerin. This fun outdoor activity will bring your family together for hours of fun.
I'm not talking about one of those big bubbles that escapes the bubble wand as you gently blow every bit of air from your lungs. No. I'm talking about huge bubbles that are bigger than your toddler! Heck, these bubbles can get bigger than you!
If you're not convinced that giant bubbles will make your toddler to 10+ year old burst with excitement, let me be the first to tell you that they will love this activity.
Our Top Offers for Immediate Fun!
Paper Dolls - Spend hours coloring, cutting, and dressing paper dolls with this huge printable kit.
Math Bingo - Make learning mathematics fun for everyone with this complete kit of bingo boards, equations, answer key, and instructions.
Scavenger Hunts - Keep the kids busy for hours with these unique indoor scavenger hunts for kids of all ages.
How To Make Giant Bubbles without Glycerin
I could go on and on about how much fun we had, but that's probably not what you're here for! Let's quickly go over the instructions on how to make giant bubbles solution!
Set aside 10 to 15 minutes to make your first batch of giant bubbles. The more often you make it, the quicker you'll get! It's best to make the solution and let it settle for a few hours (overnight if possible). This will help your bubbles turn out stronger.
Related: 20 Of The Best Activities For Kids To Do In The Springtime
Giant Bubbles Solution Ingredients
There are hundreds of DIY bubbles blog posts, and many variables of how to make the perfect giant bubbles solution, but here are the ingredients that work the best:
6 cups of tap water.
1/2 cup of Great Value Ultra Dishwashing Liquid (aka off-brand blue Dawn dish soap).
1/2 cup of corn starch.
1 tbsp of baking powder.
1 tbsp of Glycerin (or substitute with personal lubricant or white corn syrup).
Note that you can follow this same giant bubble recipe without glycerin. Try another agent like personal lubricant or white corn syrup. It just so happened that we had some Glycerin hanging around, though it's not exactly a common household item! The glycerin makes your bubbles more elastic and stronger but you don't need it. If you have some on hand or don't mind ordering some, then go for it!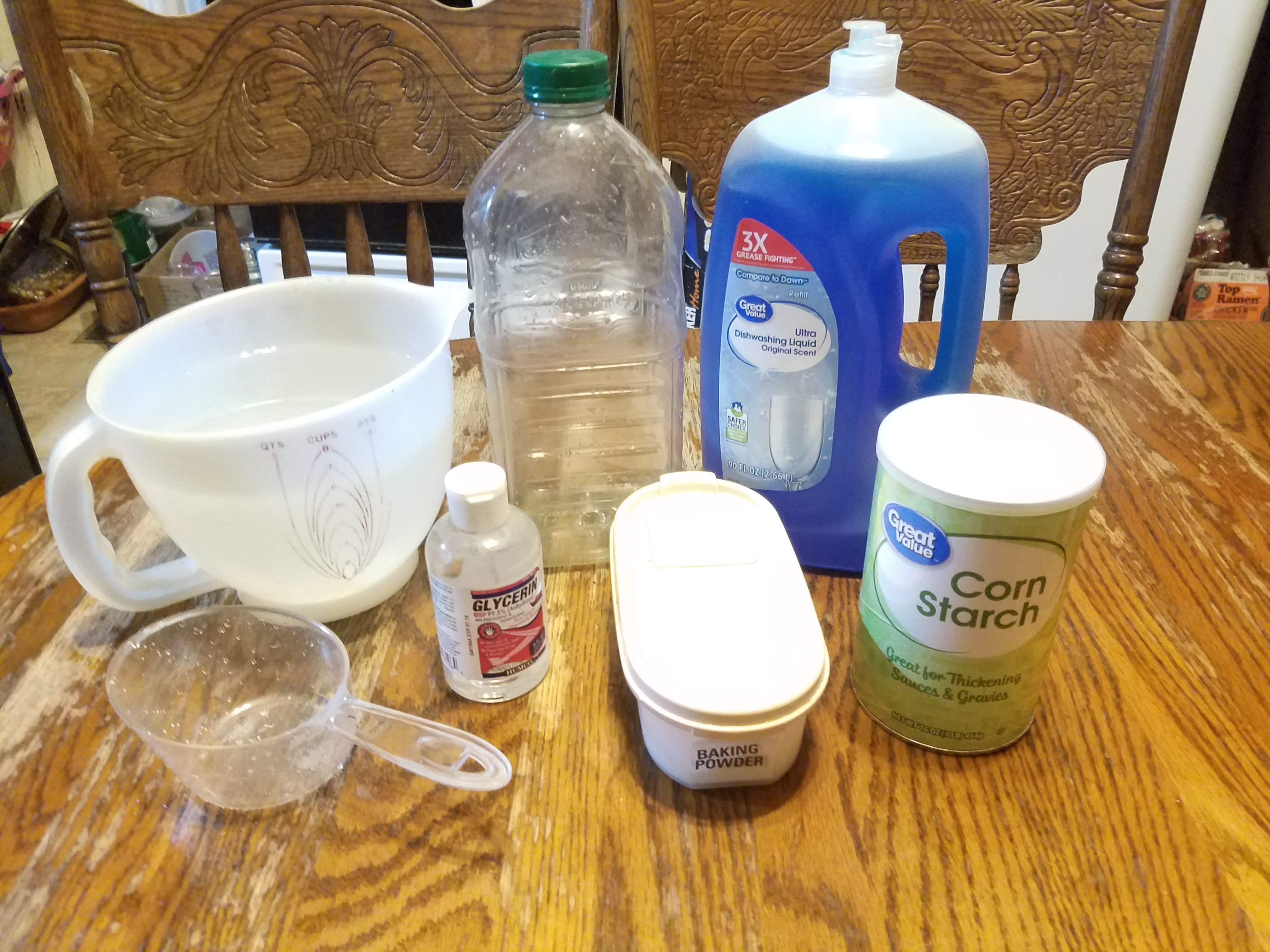 How to Make Giant Bubbles Solution
In a large 8 cup measuring container (with a pour spout!), dissolve 1/2 cup of corn starch into 6 cups of water.
Mix in 1 tbsp of baking powder and 1 tbsp of Glycerin*.
Slowly mix 1/2 cup of blue Dawn dish soap (or an off-brand version) into the solution. Try not to create excessive froth on top of the mixture, though some is inevitable.
Slowly pour the giant bubble solution into a container with a lid. I used an old, clear plastic juice container, but in hindsight, a large rectangle food container would have been ideal for gentle stirring.
Allow the mixture to sit for at least an hour before using. I allowed my mixture to sit overnight since it was dark by the time I put it together.
Gently stir the bubble mixture occasionally to remix the settling corn starch.
To use: slowly pour the bubble mixture into a large rectangle food container for easy dipping.
*how to make giant bubbles without glycerin: I've read that personal lubricant or white corn syrup can replace the glycerin in your bubbles solution, but I have not tried either of these yet.
Your ready-to-use huge bubbles solution should look something like this when it comes time play.
Related: 16 Best Outdoor Toys For Toddlers To Enjoy Summer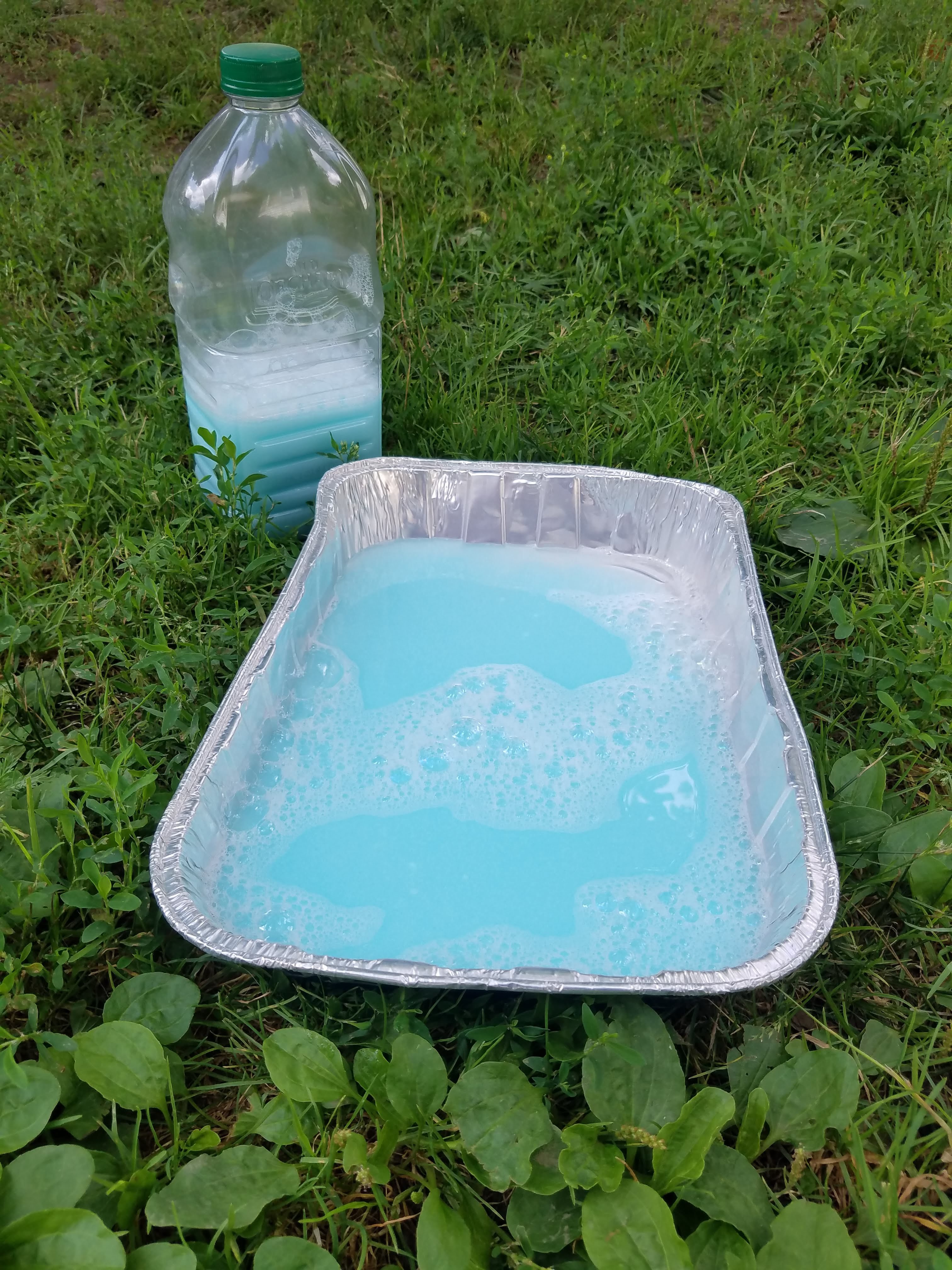 How To Make Giant Bubbles That Don't Pop
For strong bubbles that don't pop, feel free to experiment with the ingredients and add more dish soap and or Glycerin (or personal lubricant or corn syrup) to the mixture. These two ingredients affect the strength of your bubbles. Take notes as you make each batch and in time you'll have the recipe for the strongest giant bubbles that don't pop.
Related: Easy Rock Painting Ideas For Beginners (And Where To Buy Supplies)
How To Make a Giant Bubble Wand
But wait?! How will you blow gigantic bubbles without a bubble wand?!
Let's go over how to make a giant bubble wand with a few common supplies that you probably have somewhere in your home.
Items you'll need to make a giant bubble wand:
String
Straws
Giant bubble wand instructions:
Measure out different lengths of string for your bubble wands. We used lengths of 8 to 12 x the length of one straw.
Thread one long piece of string through two straws.
Tightly tie off your string to make one big loop.
If you don't have straws on hand, you can also purchase some giant bubble wands.
When finished, your giant bubble wands should look something like this: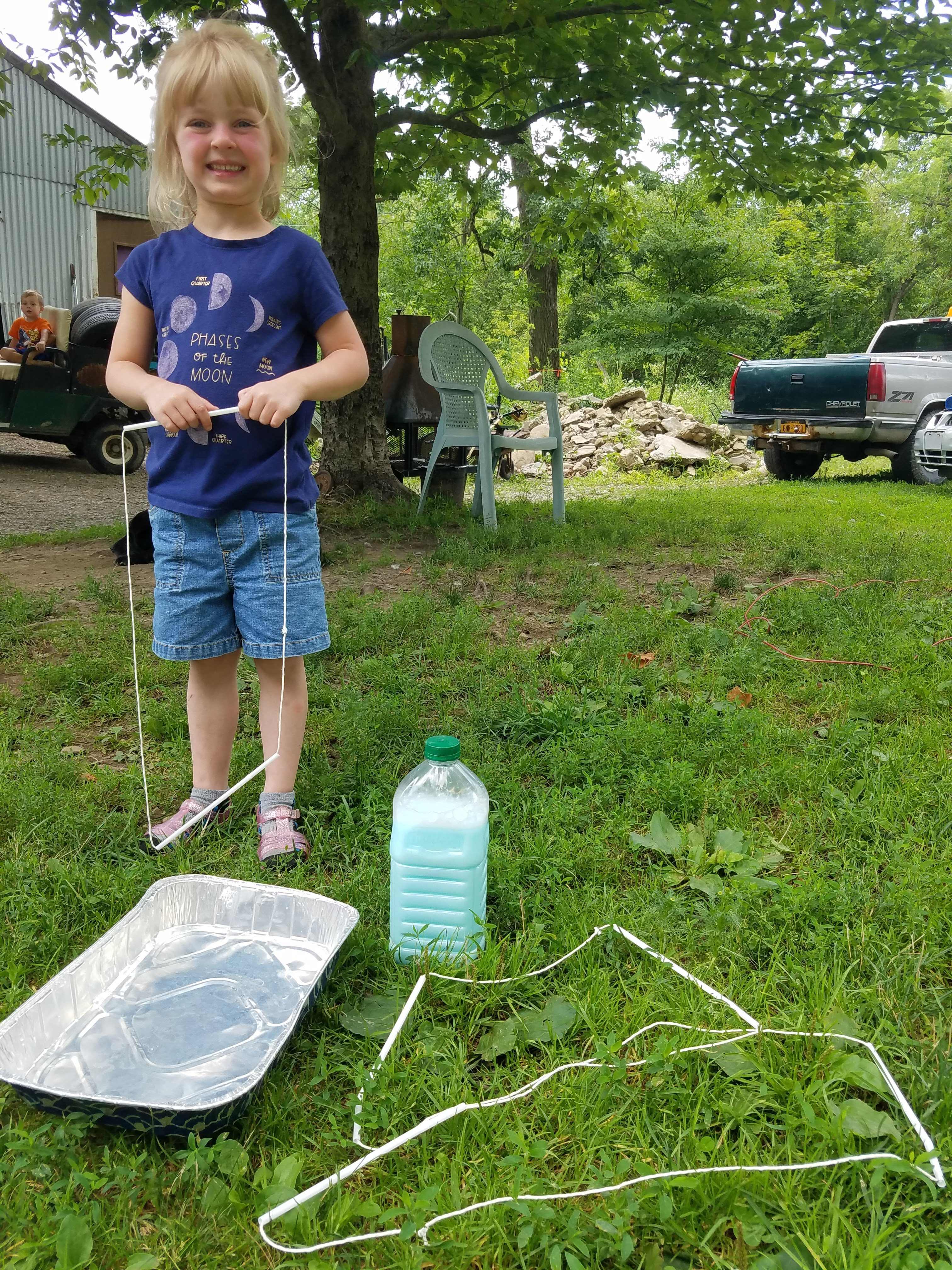 Now you're ready to blow giant bubbles with the best bubble recipe!
Ideally, you'll blow the best giant bubbles in a shady spot with just a slight breeze. Too much wind could pop your big bubbles while still air could leave your bubbles falling right to the ground.
Though we didn't (and couldn't) plan for the perfect day, we ended up with just the right amount of breeze in a nice shady spot to keep our bubbles from drying out in the sun!
Tips for Making Giant Bubbles
Don't skimp on the ingredients. If you want to have the best bubble recipe, make sure to include the right amount of each ingredient!
Stay out of strong wind and sun. Your large bubbles will start to dry out and pop easier if they are exposed to too much wind and sun.
Make one wand for each child (and adult!) and have at least one flat container of bubbles ready per 2 kids. In hindsight, the younger kids would have had even more fun blowing big bubbles if they each had their own bubble tray, but we also chalked this one up as a lesson on patience!
Don't let kids (or dogs!) accidentally step on the flat container of bubbles – it will all spill!
Document your fun. Kids love to see themselves accomplishing something new, so be sure to take lots of pictures and videos! Though don't be so engrossed in taking the best pictures that no one really has time to enjoy the bubbles. Candid photos are the best!
Have fun with the kids. It's well known that kids have the most fun when they see their parents joining in the excitement. So make sure to include the whole family for an afternoon of fun blowing massive bubbles!
How to make strong bubbles without glycerin. Remember, if you do not have glycerin, you can substitute this ingredient with personal lube or corn syrup.
If you're using the best bubble recipe, even the adults sitting nearby can't help but gawk at the anomaly of seeing giant bubbles jiggle through the breeze!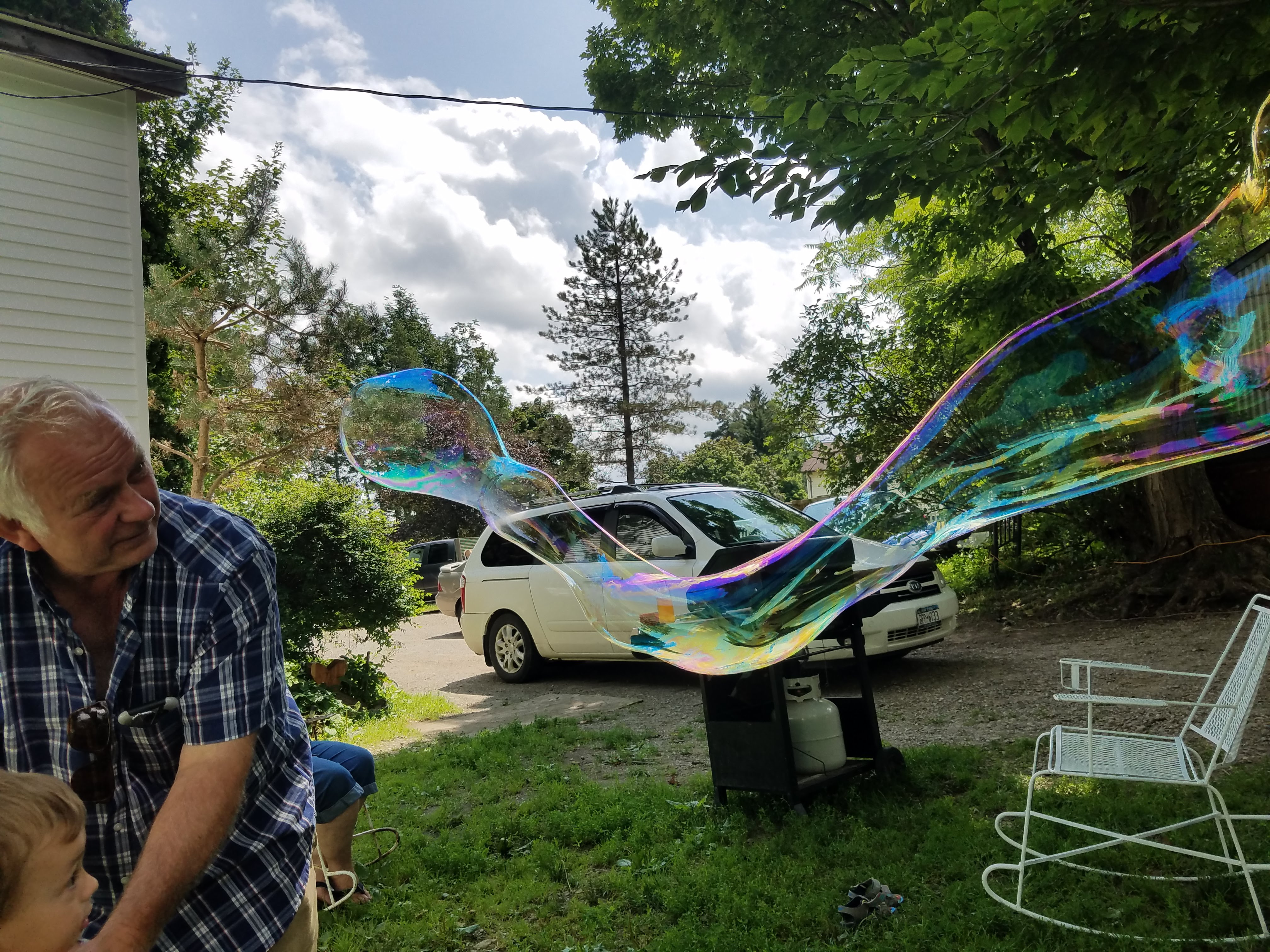 Keep in mind that blowing giant bubbles is not terribly easy for toddlers, though they will have a blast joining in on the fun.
I was happy to have just enough bubble wands to keep even the smallest bubble blowers happy!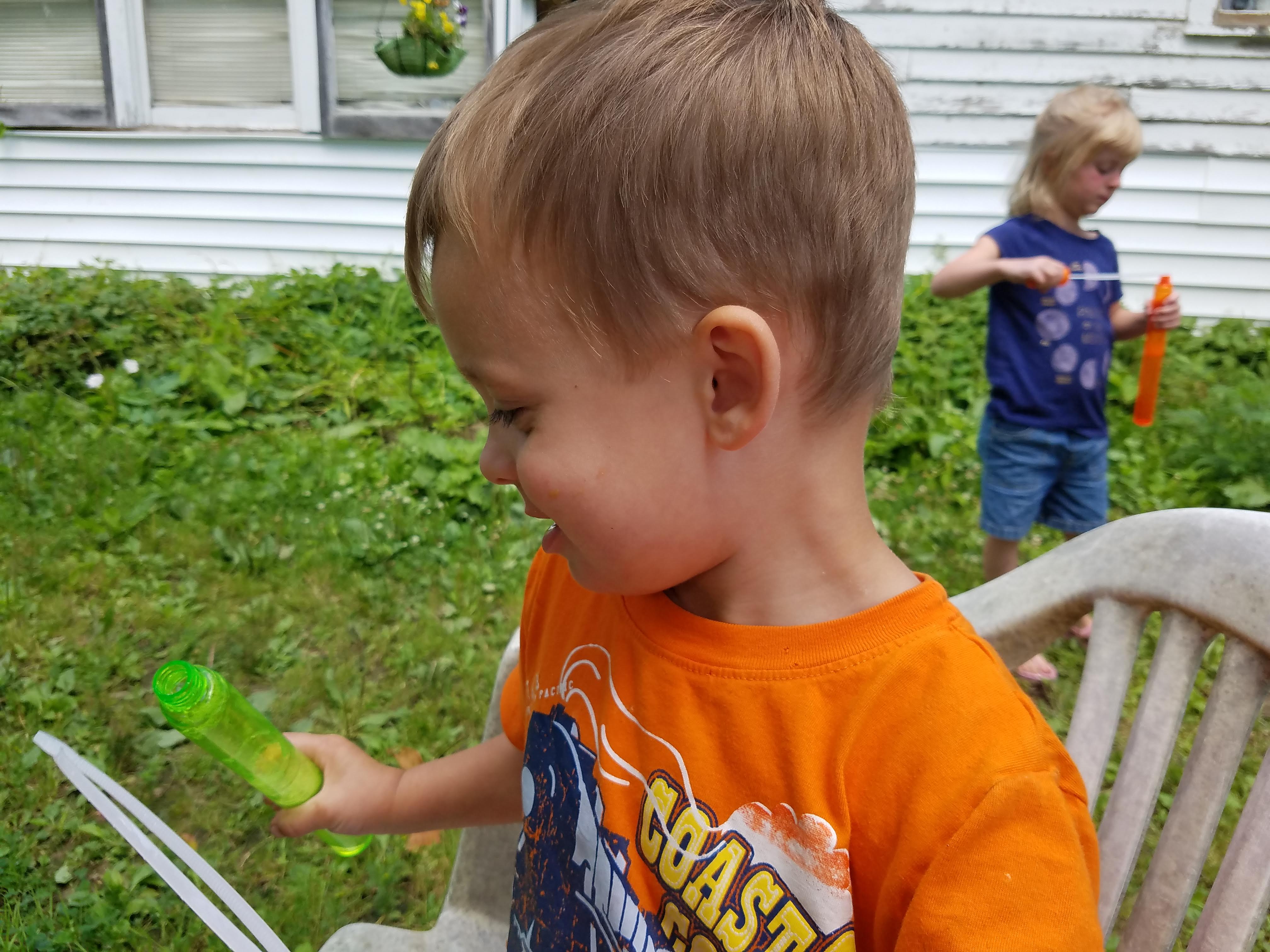 Related post: How to Make Painted Rocks for The Garden With Kids
BUT- that said, a patient kindergartner can play along and create giant bubbles with the rest of the gang.
Don't let the first few (or many) fails discourage your kids from learning how to make giant bubbles! Even the smallest kids can blow the best bubbles.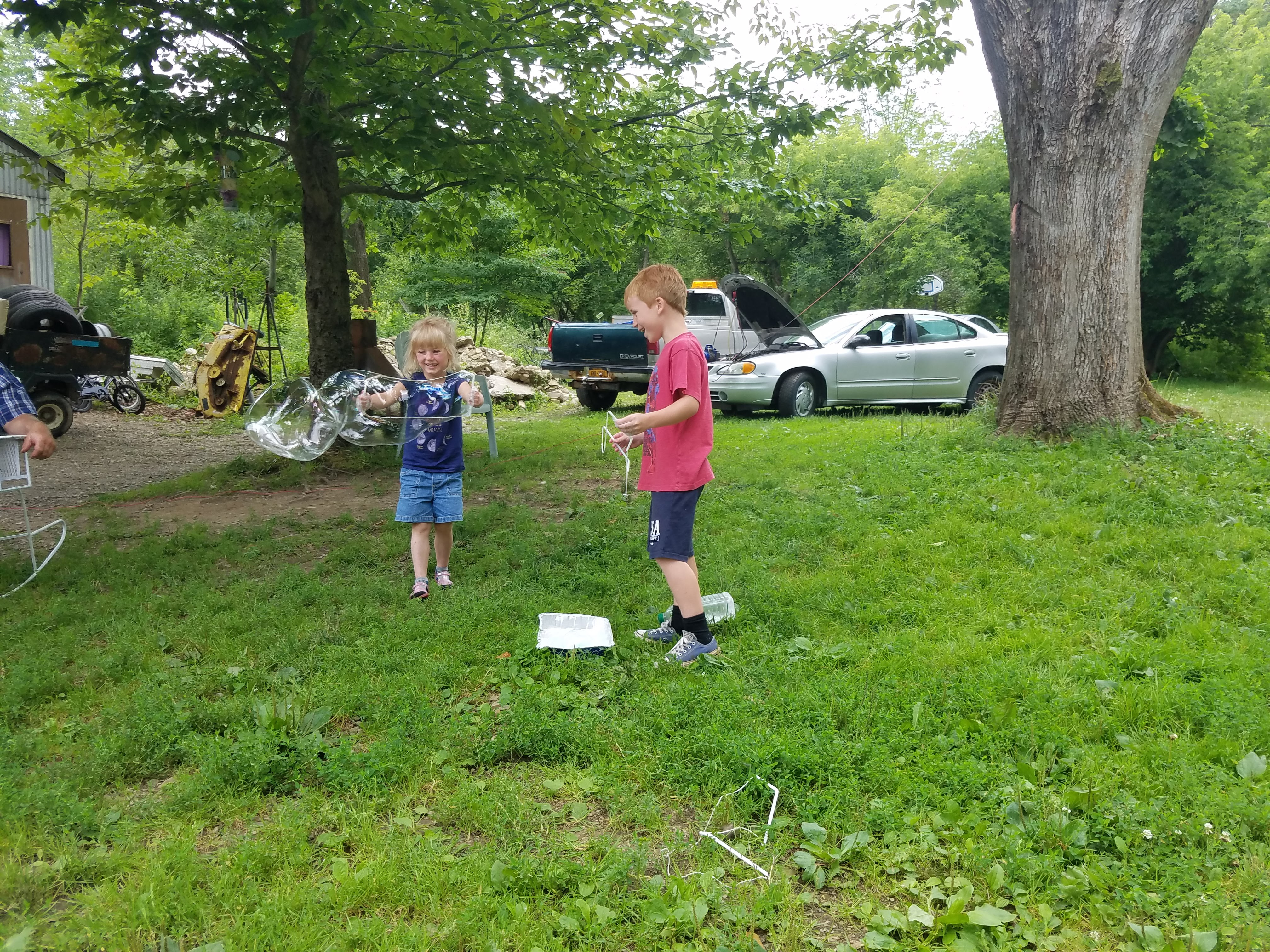 I would say that the best age for really tackling the technique that gives you the biggest bubbles is probably going to be ages 9 to adult. But again, that does not mean that the younger kids won't have just as much fun playing along.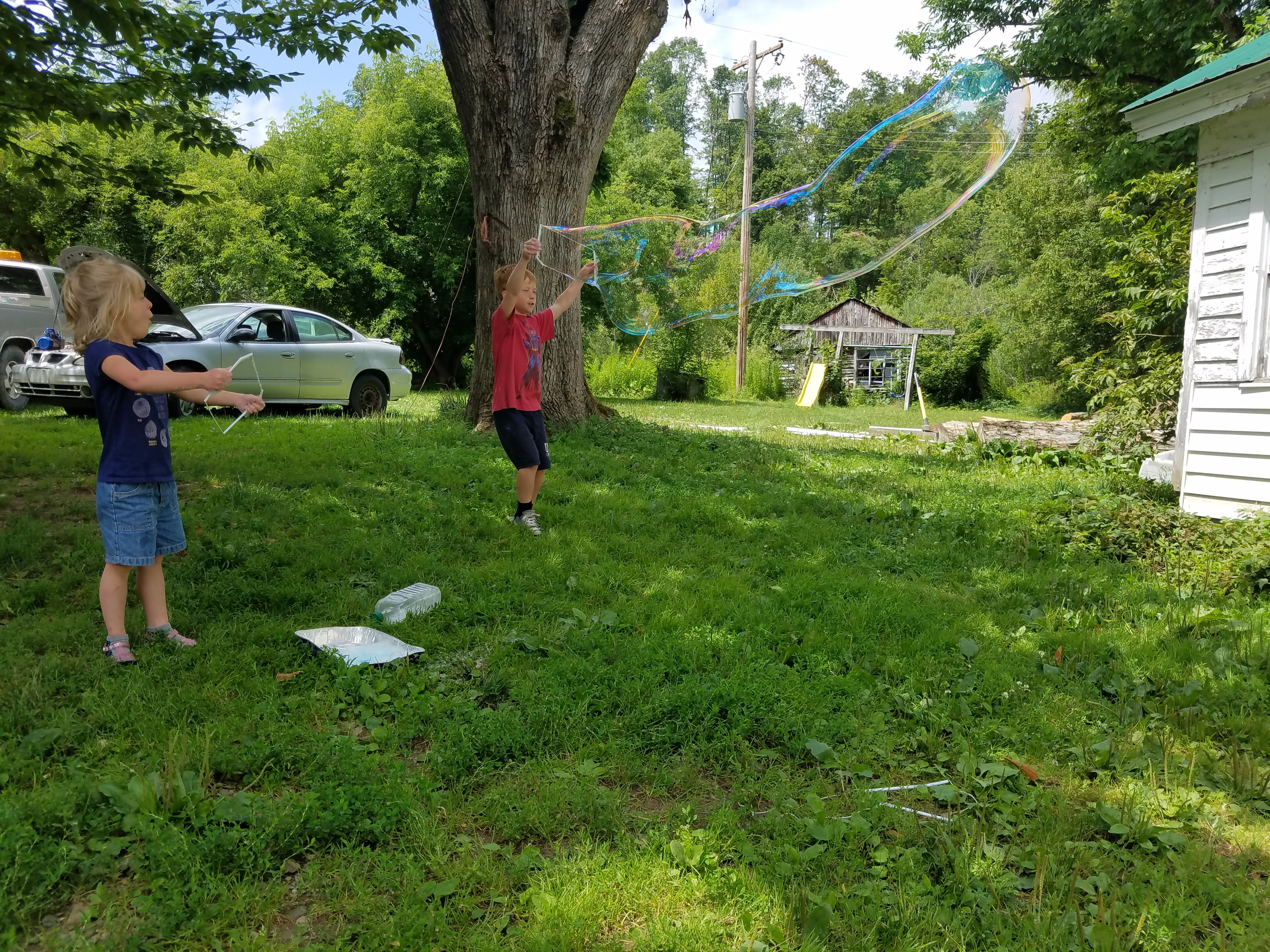 Make sure to allow your toddler to POP some of those giant bubbles. What is the fun in blowing big bubbles if you can't pop them?!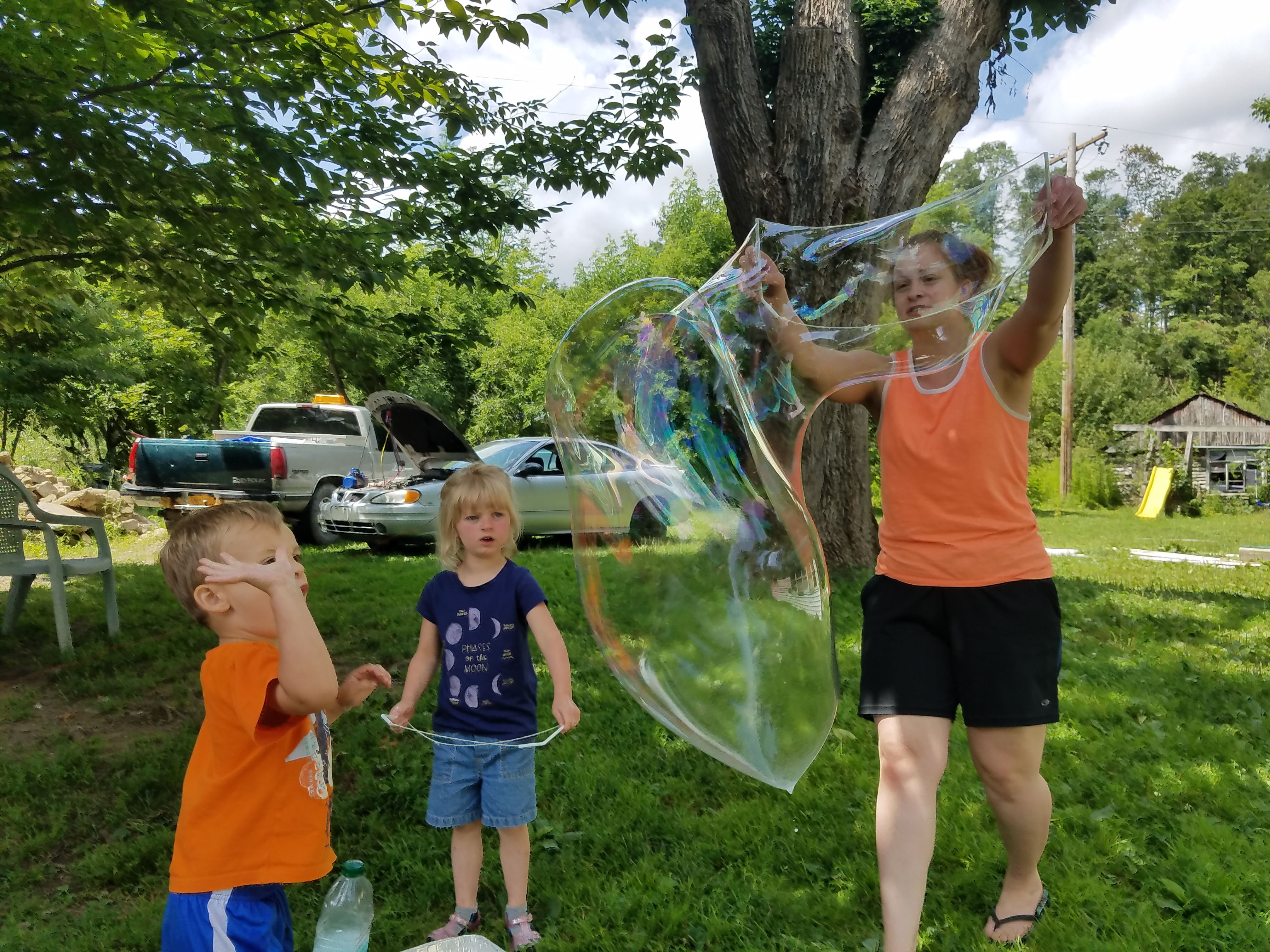 All in all, the excitement that this outdoor activity for kids incited was a strong 10 out of 10.
There was never a dull moment as we blew bubble after bubble for over an hour. That is – until the dog dumped our giant bubble solution (notice the unbearable guilt on his face).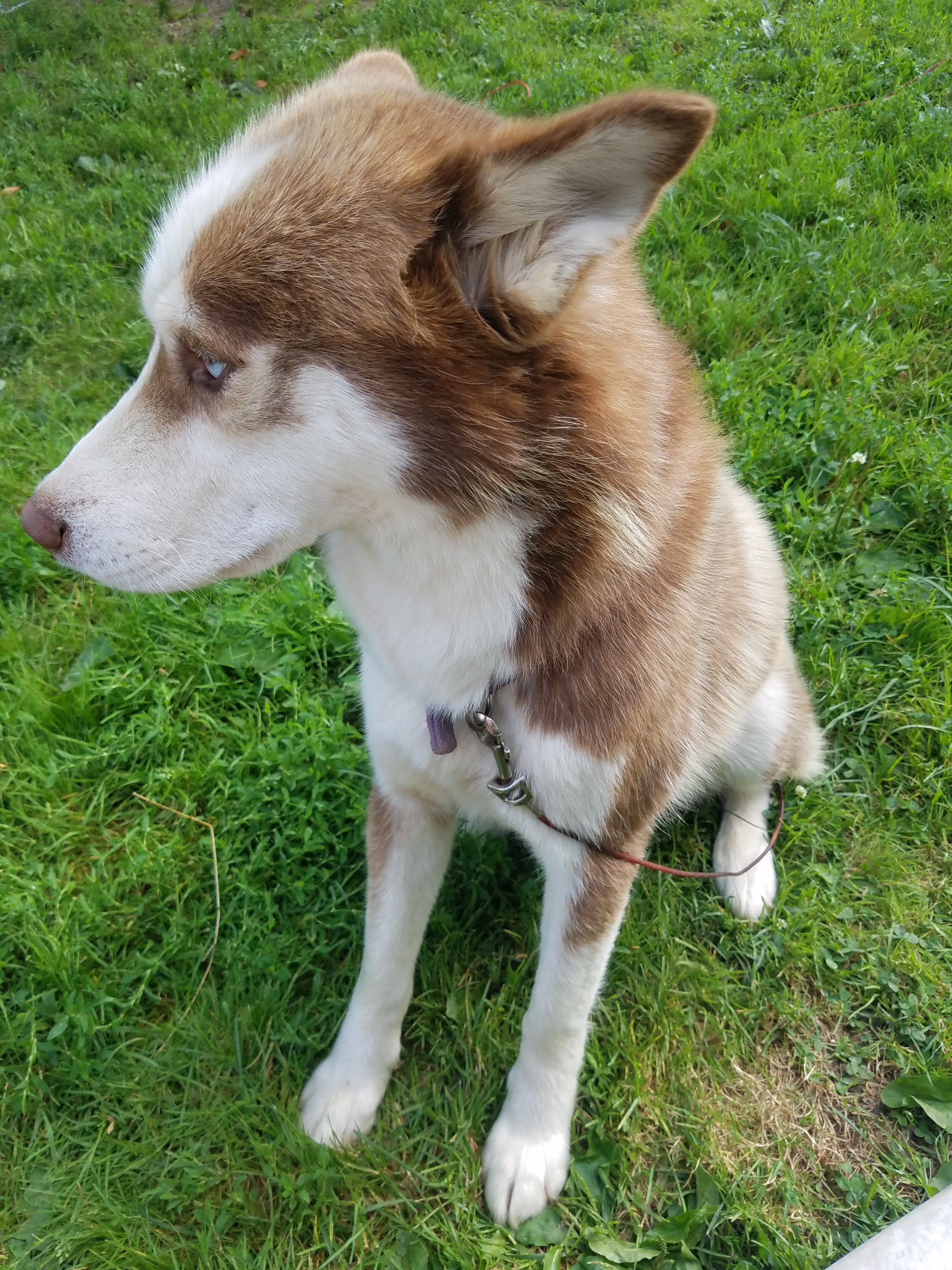 Have you made a bubble solution recipe for blowing huge bubbles yet? If so, share your experience in the comments! I would love to hear how you and your kids enjoyed playing together with giant bubbles!