Why You Should Bake with Your Preschooler and How to Do it
Last Updated Jan 11, 2023
This post may contain affiliate links. Please see my full disclosure policy for details.
Tiffany, a blogger at Mommy of Mayhem, shares exactly how to bake with your preschooler, why you should do it, and the best recipes to tackle.
Baking with my preschooler has been such a wonderful learning adventure for both of us!
My son Finn is learning increased fine motor skills, hand-eye coordination, counting and measuring, how to follow instructions and information about the food we eat.
I've learned to trust my child even more with messy projects, to be patient, and to laugh at spills and messes.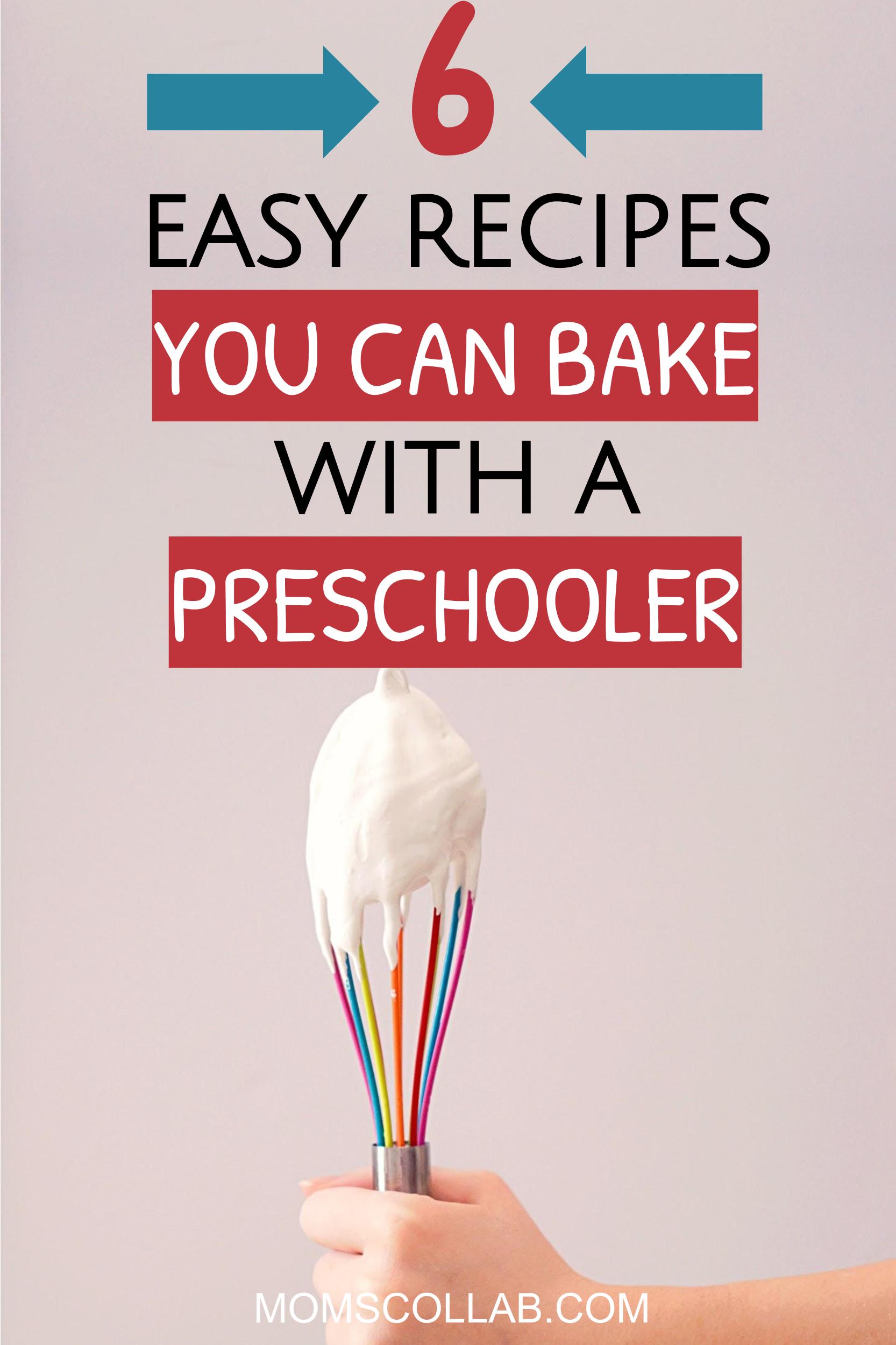 Related: Short Moral Stories to Read to Your Kids
Reasons to Bake with Your Preschooler
Baking together is bonding
Making yummy baked goods has been such a bonding experience for us – usually, we bake or do science experiments (which are oddly similar to each other) while baby brother naps. This is a "just for us" project that makes Finn feel special and responsible – because he is.
Baking together teaches independence and responsibility. The more we bake together, the more Finn is learning and the more interested he is in helping me around the kitchen. He's even started to ask to help me make dinners. I've found that I'm able to trust him with more important tasks and he has really thrived with that level of responsibility. As he's growing into and testing his boundaries of independence, it's given him the confidence he needs to conquer other skills such as getting dressed or going to the bathroom by himself (now he asks for "privacy." Cue mama's tears.)
Baking teaches math skills
When you're baking, you have to be able to count and measure. It teaches preschoolers time, proportions, measurements, and how how to follow sequences and simple steps. You can turn baking into a counting game, or use it as an opportunity to count the minutes until your dish is out of the oven.
Related: How To Make A Math Bingo Game To Help Kids Learn Arithmetic
Baking is sensory play and fine motor play
In addition to all of this, baking is a fantastic source of sensory play. Our kids can taste, touch, smell, see and hear things while they're baking that they wouldn't normally notice. All of the measuring, cutting, stirring, pounding and rolling are great for the little muscles in their hands and arms to grow and get stronger.
Related: How To Make Unscented Fake Snow For Your Toddlers Sensory Bin
Baking teaches important life skills
When kids get to bake with their parents, they learn patience and teamwork. They have to follow instructions and directions in order to get the outcome they want (a yummy treat). It's also a wonderful way to teach kids about what their food is made of and how different ingredients combine to make meals.
Related: The Best Water Table For Toddlers To Beat The Heat
tips for baking with your preschooler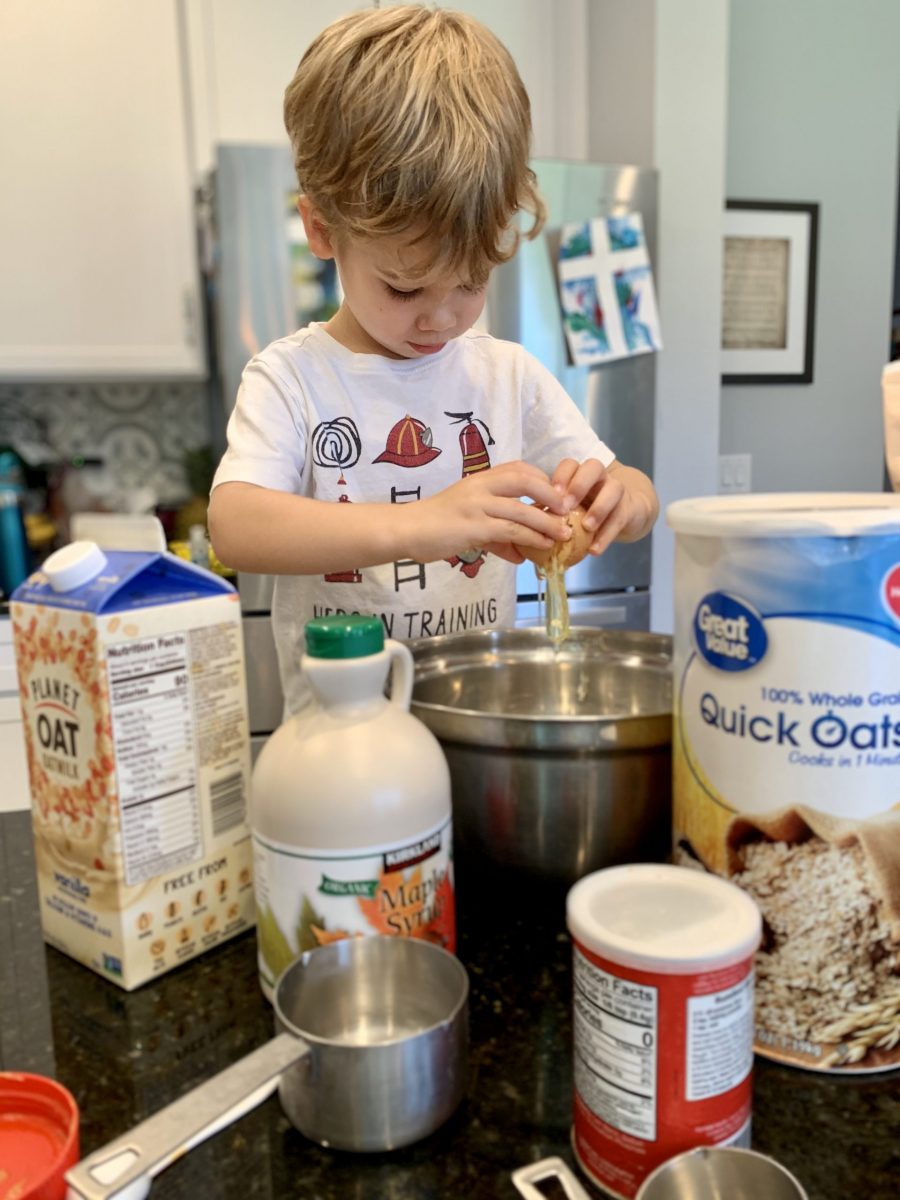 Image credit: Tiffany with Mommy of Mayhem
It will get messy. And that's OK – this is a "safe space" to get a little messy, but also to learn to clean up our messes.
Pre-measure ingredients or set aside a smaller amount of ingredients so it doesn't get too chaotic. For example, if you're going to use flour, pour a few cups into a bowl for your child to measure out – rather than risk the entire bag of flour ending up on your countertops or floor.
Use a rubber band. If you have your child pour and measure the ingredients, use a rubber band to mark the "stopping point" so they have a very clear marker of where to stop pouring.
Teach them along the way. I try to teach Finn about the ingredients we're using – we touch them, smell them and talk about their properties. You can share stories with them and teach them about fractions (for example: if using a 1/4 measuring cup, you can show them how four of those measures equals a one cup measure. You could even do a little demonstration with this concept.) I love teaching Finn little tricks and tips for everyday life – how to get the last bits of flour out of the measuring cup, crack an egg, double or halve a recipe and so much more.
Be patient. This is a hard one for me. I can easily get frustrated if Finn doesn't listen to my instructions or if he gets impatient for the next step. It helps me to remember that: 1. He's only three years old and 2. He's excited to do this with me. When I keep those two things in mind, it makes whatever comes up in the baking process easier to handle.
Let them play. They're kids; they just want to play. And, they learn through play. So, let them play. Don't be in too much of a rush while you're baking with your preschooler.
Be OK with imperfection. I wouldn't recommend baking something with your preschooler in order to give to someone else, especially at first. Ingredients might not get measured perfectly, there might be a few more eggshell pieces in the mix than you'd like or your sweet child could sneeze into the batter fifteen times. Remember, it's a learning experience.
Related: 5 Steps To An Unforgettable Indoor Scavenger Hunt
6 recipes to bake with Your preschooler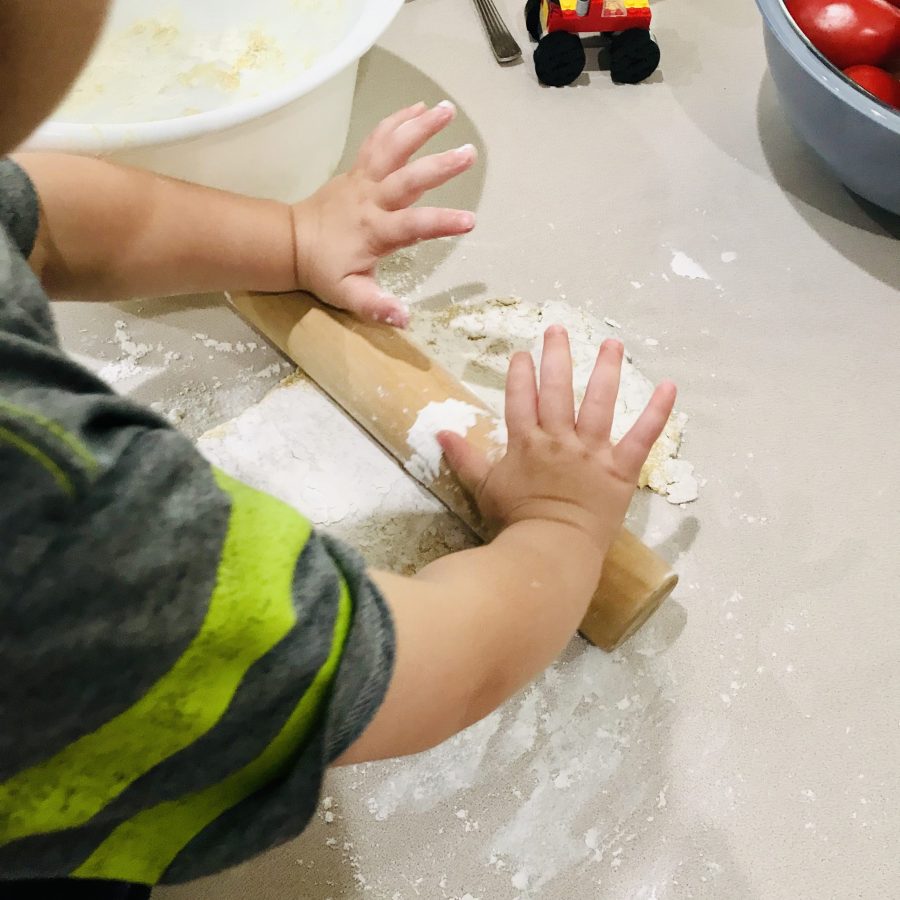 Image credit: Tiffany with Mommy of Mayhem
1. Toddler-Approved Doggie Bones
Yep, you read that right. A dog bone that both your dog AND your preschooler can eat. My super clever sister-in-law came up with these and her preschooler loved making them with her. He helped measure out the ingredients and particularly enjoyed rolling out the dough and using the cookie cutter. Feel free to use any cookie cutter you have available, but here's some adorable doggie-themed ones.
Ingredients:
1/2 cup applesauce
1/3 cup oil
2 1/4 cups flour
1/2 cup quick oats
1 teaspoon baking powder
2 eggs
Dash of salt
2 tablespoons ground flax seed (optional)
Peanut butter or jelly for topping (optional)
Instructions:
Preheat oven to 350. Cover cookie sheets with parchment paper.
In a large bowl, combine ingredients together.
Spread flour out onto the countertops and knead dough until it's a play dough-like consistency. If the dough is too dry/crumbly, add more applesauce or oil until you get the right consistency.
Using a rolling pin and lots of flour, roll the dough out until it's about 1/4 inch thick. Use cookie cutters to cut into shapes and place on cookie sheets about an inch apart from each other.
Tip: Try to use up most of the dough on the first roll. On the second roll, use a little bit of oil to prevent sticking.
Bake at 350 for 8-12 minutes or until lightly browning at the edges.
Feed to your pup and/or preschooler as is or add peanut butter or jelly as a yummy topping.
2. Chocolate peanut butter oatmeal muffins
These chocolate peanut butter oatmeal muffins are gluten-free, have super simple measurements and ingredients and can easily freeze to enjoy later or one at a time. I love that they are sweetened with maple syrup rather than refined sugar. It's a perfect treat for preschoolers. This recipe can be easily modified; you can swap the peanut butter for other nut butters OR use mashed bananas or applesauce to create a fruitier muffin. You can easily leave out the chocolate chips or add nuts or chia seeds.
3. No-Bake Quinoa energy bites
These energy bites are Finn's favorite. The quinoa, peanut butter, chia and flax seeds all pack a protein punch. They're technically a "no-bake" bite, but your preschooler will have fun mixing all of the ingredients together and rolling them into balls.
This is another flexible recipe; you can sub the chocolate chips for dried cherries or cranberries, add nuts or take away the coconut flakes. These are perfect for on-the-go snacks.
4. Sheet pan pancakes
Sheet pan pancakes are a weekend staple in our house. I love that they are customizable – you can add any topping you want and you could do multiple toppings on the various segments of the pancakes. This is perfect for feeding a crowd, without having to stand at the oven and flip pancakes all day. Plus, I'm not quite ready to stand my preschooler next to the stovetop for any length of time. Finn loves to pick out the toppings (it's usually chocolate chips – but I like to add fruit in there too) and mix everything together.
5. Egg-Free Super Moist Banana Nut Bread (Muffins)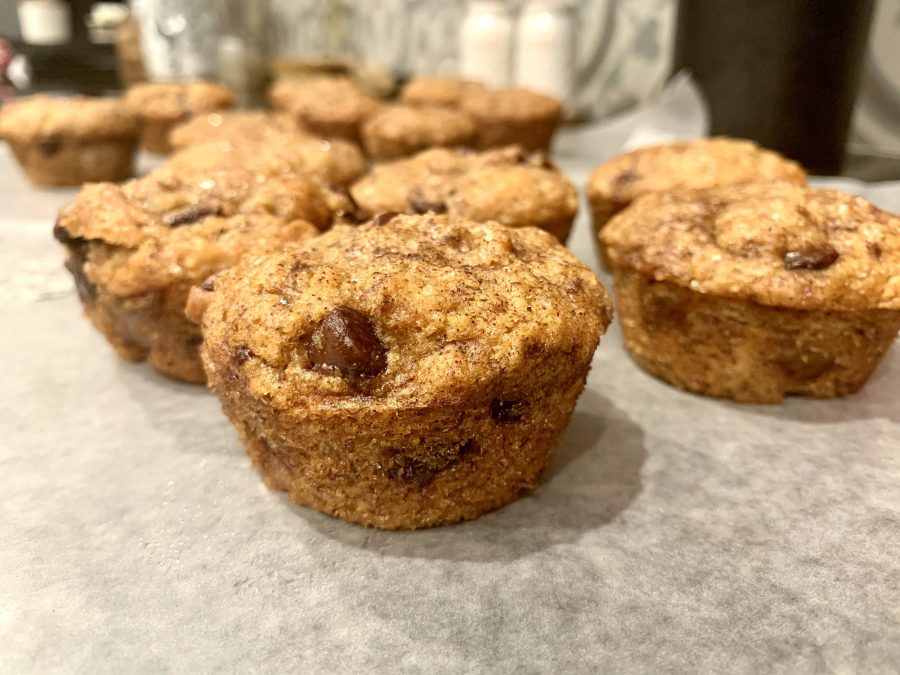 Image credit: Tiffany with Mommy of Mayhem
This eggless banana bread recipe has been honed through various successes and failures. I originally stumbled into this recipe because I was trying to make an egg-free treat for a neighbor's daughter who has an egg allergy. What I discovered is that the substitute for eggs in this recipe (applesauce + baking powder) makes the muffins SUPER moist and even sweeter. Hence, less need for added sugar, and no one misses the eggs. Finn loves mashing the bananas for this recipe. For an extra special treat, we'll throw in mini chocolate chips.
6. Healthy Mug Brownie
We first made these mug brownies because a friend of mine was coming over – and it was her birthday. I told Finn that it was her birthday and he immediately said, "We should make her cupcakes!" Well, mama wasn't up for making cupcakes twenty minutes before our guest was supposed to arrive, so we found a delicious and simple mug brownie. The great thing about this recipe is that there's minimal risk – if it doesn't "turn out," you didn't waste a lot of ingredients or take up a lot of time. However, it's delicious so it'll be worth all two minutes of your time.
Related: The Top 10 Outdoor Toys For 5 Year Old Boys (Under $50)
What Will You Bake with Your Preschooler?
Baking with your preschool is a wonderful bonding experience that every family should do. Try to enjoy the process and deal with the mess later. In time, your preschooler will learn to be aware of keeping surfaces clean, but at this age, it's all about learning and having fun.
With some patience and a little luck, you'll have some delicious treats to eat as well. Bon appetit!