32 Money Games for Kids That Will Teach Math and Counting
Last Updated Apr 03, 2020
This post may contain affiliate links. Please see my full disclosure policy for details.
It's no secret that the best way for kids to learn is through hands-on experience and fun interaction. So what better way to teach your kids practical money skills than with money games for kids?
Money games specifically teach your children how to count money, how to identify coins, how to handle money and overall how to appreciate math and counting. It's best to start now and teach kids how to appreciate value at a young age.
My son thoroughly enjoys exchanging plastic coins for "groceries" at his little checkout stand. At 3 years old he already understands that every item that goes into our cart and onto the checkout counter is paid for with cash (or plastic). Though he has yet to truly understand the differences in value or where the money comes from, he at least understands that each item is bought with a price.
Related post: List of Indoor Activities for Kids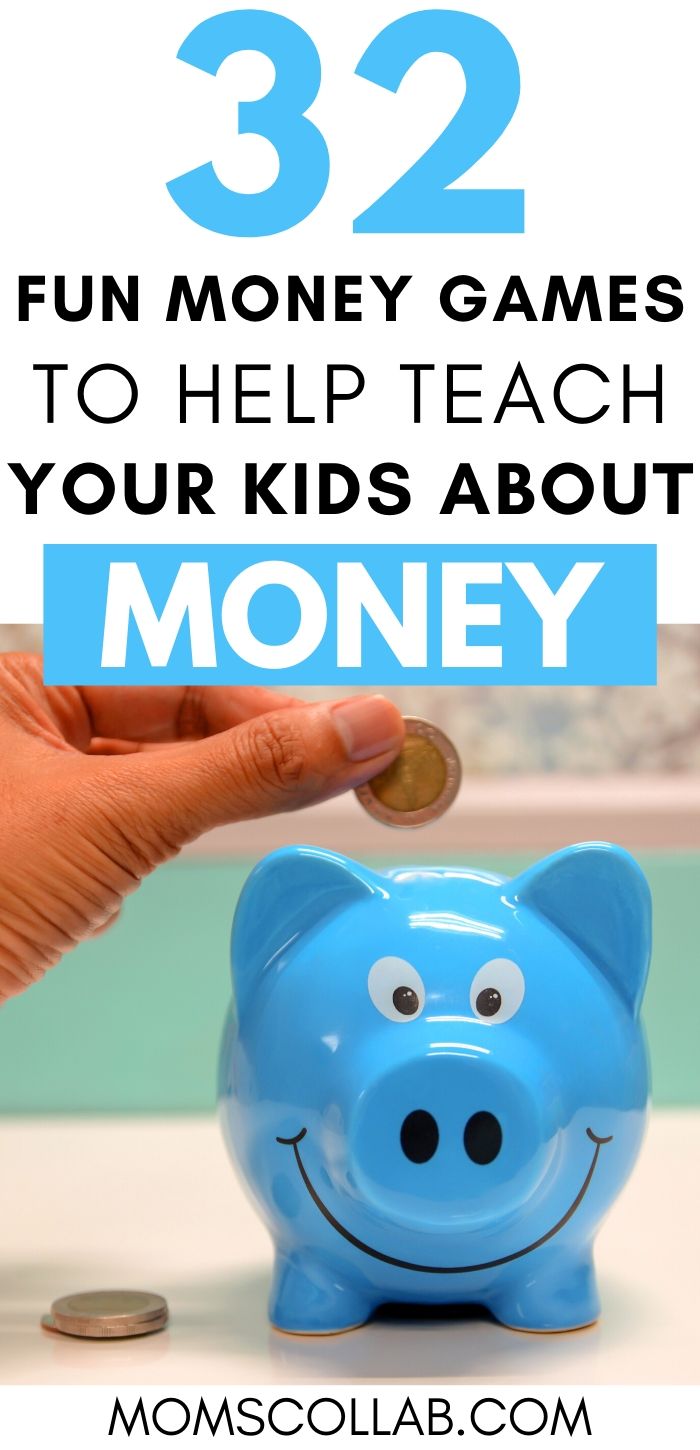 Related post: 7 Pipe Cleaner Crafts That Are Fun And Easy For Kids
But enough about my son, where are your kids at with understanding math and the value of money? Did you know that money games for kids could bring them to the next level in understanding what it means to exchange money for goods?
Money games also help kids learn basic math skills such as counting, adding and subtracting. In time, your kids will also learn multiplying and division! For example, "If I purchase 10 apples at $1 each. How much money will I need?" There is much more to learning about money than you might initially think!
List of 32 Educational Money Games
Let's take a look at the various money games: counting money games, identifying coins games, fun money games, interactive money games, printable money games and even free money games that are all readily available to teach your kids about money and mathematics.
Related post: 25 Educational Toys That Will Make Your Kids Love Learning
Fun Money Games
Perhaps your child is still young and not ready to count or understand money value just yet. That does not mean that a baby or toddler cannot start to interact with money at this stage! These are some fun money games for kids and money toys that will get your babies off to the rights start.
1. Fisher-Price Laugh & Learn Smart Stages Piggy Bank

2. BKids Fill 'n' Spill Coin Bank Toy
3. FUNERICA Durable Cash Register Toy Set

Identifying Coins Games
How many coins can your kids identify? If the answer is none (or few) and your toddler is advancing from the money toy stage, then identifying coins games is the next best place to start. Being able to identify coins and dollar bills is the first step even before learning how to count and value money.
4. Teaching Coin Stampers
5. ETA hand2mind Play Money Plastic Coins

6. Learning Resources Play Money
7. Learn & Climb Educational Play Money Set for Kids
Counting Money Games
These games are specifically designed to help kids learn how to count money. Counting money games are great for not only learning the value of money but also learning to count, add, subtract and understand more about mathematics in general. Counting money games are not only fun and interactive, but they are packed with education help for your kids!
8. LeapFrog Count Along Cash Register
9. Scholastic Dry Erase Learning Pad – Counting Money

10. Furniture Footies Let's Make Cents-Teach Kids Counting Money Magnets
11. Loose Change
12. Continuum Games Exact Change
13. Money Match Me Cards
Interactive Money Games
Hands-on, interactive money games will quickly teach your kids about understanding, valuating and handling money. The cash register games are my favorite because they show kids how money is required to purchase everything we eat or use daily. It's important for kids to understand through these interactive money games that nothing comes for free and how frugality will get them farther in life.
14. Farmers Market Color Sorting toys for toddlers with Play Food
15. Cadily Magnetic Chore Reward Chart for Kids
16. Learning Resources Money Activity Set
17. Register Set With Pretend Play Food, Money, Lights and Sounds
Money Board Games
Undoubtedly more challenging than the previous money games listed, these money board games will kick it up a notch. Most of these money board games are suggested for ages 8 to adults, but that doesn't mean you couldn't introduce your younger children to them on family game nights. Learning money and math is much more fun when it's presented as a game, so choose a money board game that the whole family will love!
18. Learning Resources Buy It Right Shopping Game
19. Learning Resources Money Bags Coin Value Game
20. Lakeshore Allowance Game
21. Winning Moves Games Payday
22. Monopoly Classic Game
23. Hasbro The Game of Life Board Game
24. Grandpa Beck's Cover Your Assets
25. Easy Money
26. Daytrader: A Financial Board Game
Printable Money Games
Grab these printable money games while they're free! Each one teaches kids how to count and value money in a fun and interactive way. There are great money games for 2nd grade but don't be afraid to start your kids earlier.
Free Money Games (for Kindle Fire)
There are numerous free money games for Kindle, iOS and Android devices. You can also use the free printable money games listed above to teach your kids how to identify, count and valuate money. Money games for kids are a great way to present money and math education in a fun manner.
31. Count the Coins
32. Money Professor Free
33. Amazing Coin(USD): Educational Money learning & counting games
Cash Boxes, Money Jars and Piggy Banks
Here are a few bonus money ideas for kids. We can't talk about money games without teaching our children how to keep their money safe. These traditional piggy banks, cash boxes and money jars are perfect for teaching kids how to value and secure their money. They also make great birthday and Christmas gifts for kids of all ages!
Geelyda Pink Piggy Bank
Colorful Stacking Block Coin Bank For Kids
DISCOVERY KIDS Digital Coin-Counting Money Jar With LCD Screen, Keeps Track Of Balance

APUPPY Cartoon Password Piggy Bank Cash Coin Can, Electronic Money Bank
Schylling Locking Cash Box
Conclusion: Money Games For Kids
Wow, that's a lot of money games for kids! The point is that you should be able to find a money game in this list for any stage of learning. Whether you're still facing the baby stages and you're just thinking ahead or your child is ready to walk into kindergarten with no concept of money, there is a money game here that will help your children excel in math and counting!