Homemade Ring Toss Game That Is Safe To Play Indoors
Last Updated May 22, 2020
This post may contain affiliate links. Please see my full disclosure policy for details.
This homemade ring toss game is great for kids of all ages and it's 100% safe for indoor play. Rather than using plastic or metal rings, this diy ring toss carnival game uses pipe cleaners for a super soft landing!
Using pipe cleaners for rings makes this homemade ring toss game both safe and quiet. You won't be able to hear a sound other than the kids giggling as they play this fun indoor game.


Homemade Ring Toss
This homemade ring toss can be painted to match any holiday or party theme. The paper towel roll is easy to paint and pipe cleaners come in many colors.
Mix and match colors to create the perfect Halloween, Thanksgiving, Christmas or Birthday Party homemade ring toss for any occasion.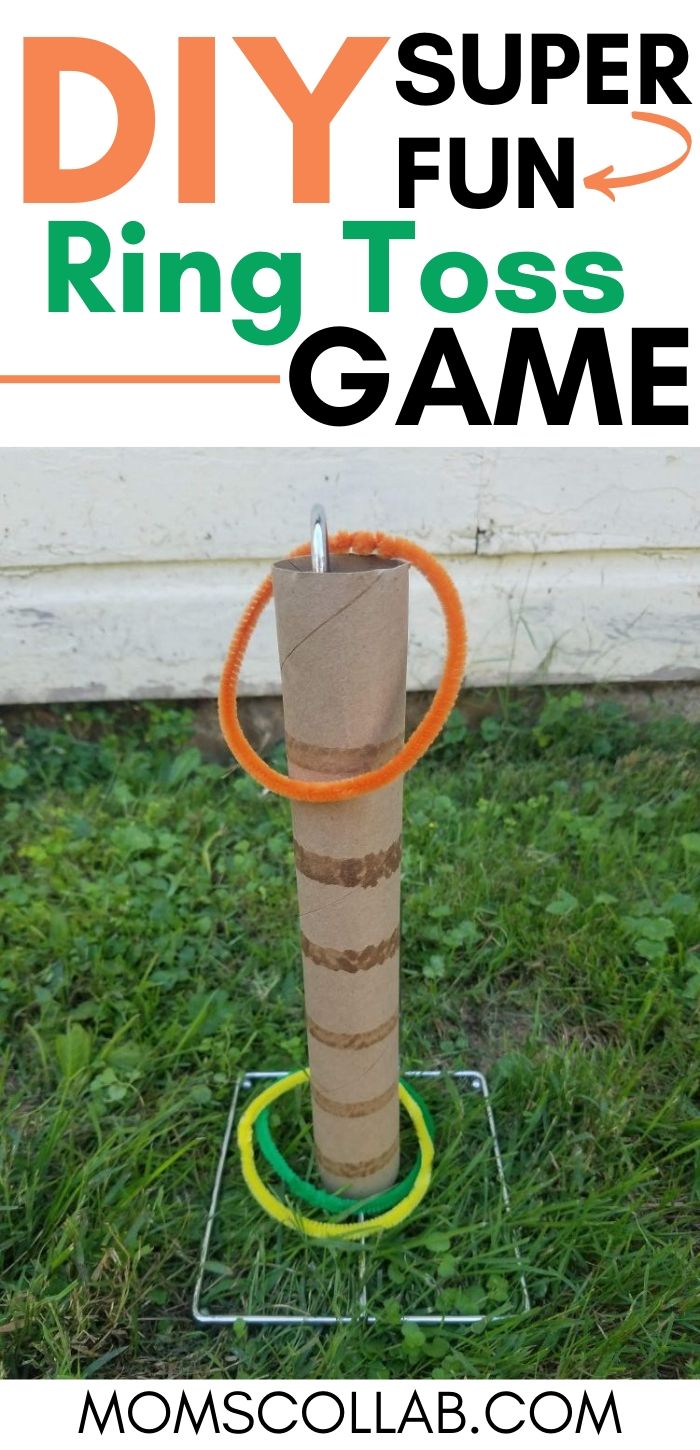 Related post: List of Pipe Cleaner Crafts, Activities and Games
Ring Toss Game Rules
The sky is the limit when playing this DIY ring toss carnival game. For older children, draw an imaginary line that players need to stay behind. Toss each ring one by one to see who can get the most ringers.
For younger children, encourage then to toss the ring toward the pole but don't be afraid to let them roam as they play.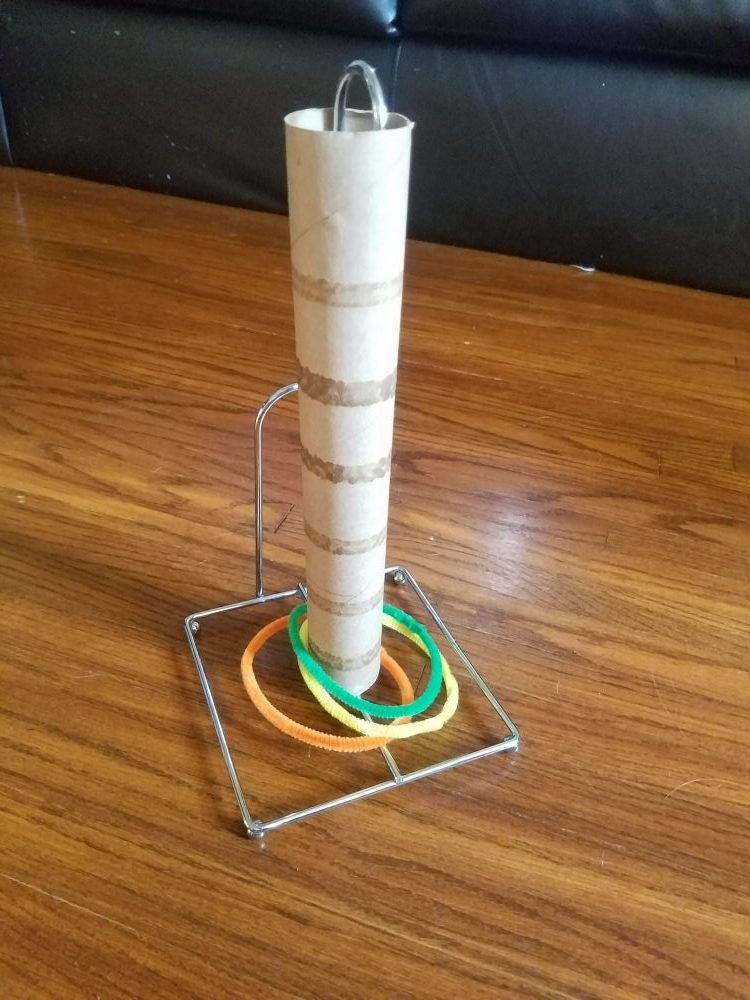 Related post: List of Indoor Activities for Kids
Homemade Ring Toss Game Supplies
Set of at least 5 pipe cleaners in each color (one color for each child participating)
1 paper towel roll and paper towel stand (or pop bottle)
Optional: paint
diy ring toss carnival game
1. Mold each pipe cleaner into a circle and twist the joining ends together to hold the circle closed. For a heavier, larger ring (easier to throw), twist multiple pipe cleaners together into a circle to create a larger ring.
2. Give each participant a set of 5 pipe cleaner rings in one color.
3. Set up the paper towel roll (or pop bottle) and begin play.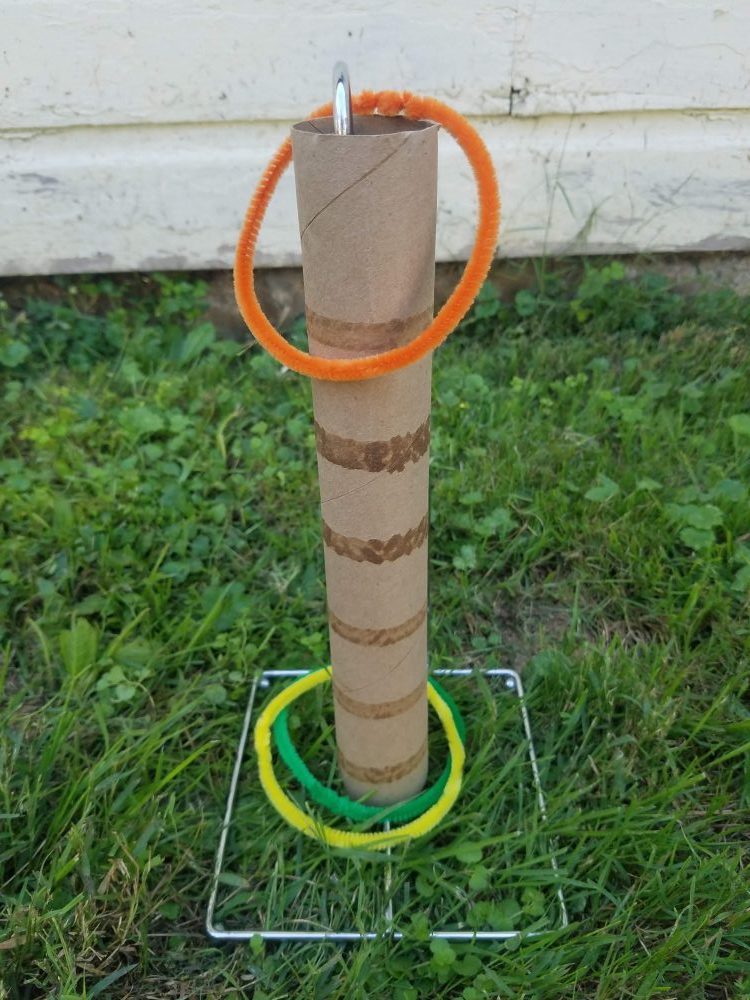 diy ring toss with bottles
A diy ring toss with bottles game can also be played using this same concept. Simply set up 5 to 10 pop bottles in a small bunch and have the kids toss their unique colored rings to see how many they can lasso.
This homemade ring toss game is great for parties both indoor and outdoor. It eliminates broken lamps and picture frames since the game uses light pipe cleaners.
Kids aged 1 through 10 can enjoy this homemade ring toss game, but direct supervision is recommended as pipe cleaners can be sharp and dangerous. Keep the sharp ends away from little eyes and mouths and all should be safe!
Have you tried this ring toss game yet? Let us know in the comments!