16 Best Outdoor Toys for Toddlers to Enjoy Summer
Last Updated Apr 21, 2020
This post may contain affiliate links. Please see my full disclosure policy for details.
Summer is the season that allows us to *finally* toss the kids out into the backyard! When the day comes where the sun is shining and the watermelon is ripe, there's nothing much better than gathering your kids and enjoying the day outside. A big part of toddler development is stimulating their senses with outdoor play and stores are brimming with great outdoor toys for toddlers.
You don't have to buy them all or spend hundreds of dollars for your toddler to have fun. In fact, there are even toys for less than $15 on this top 10+ list of outdoor toys for kids! Plus, when summer is short, you don't want to spend most of the season shopping with trial and error. So take this list and run with it!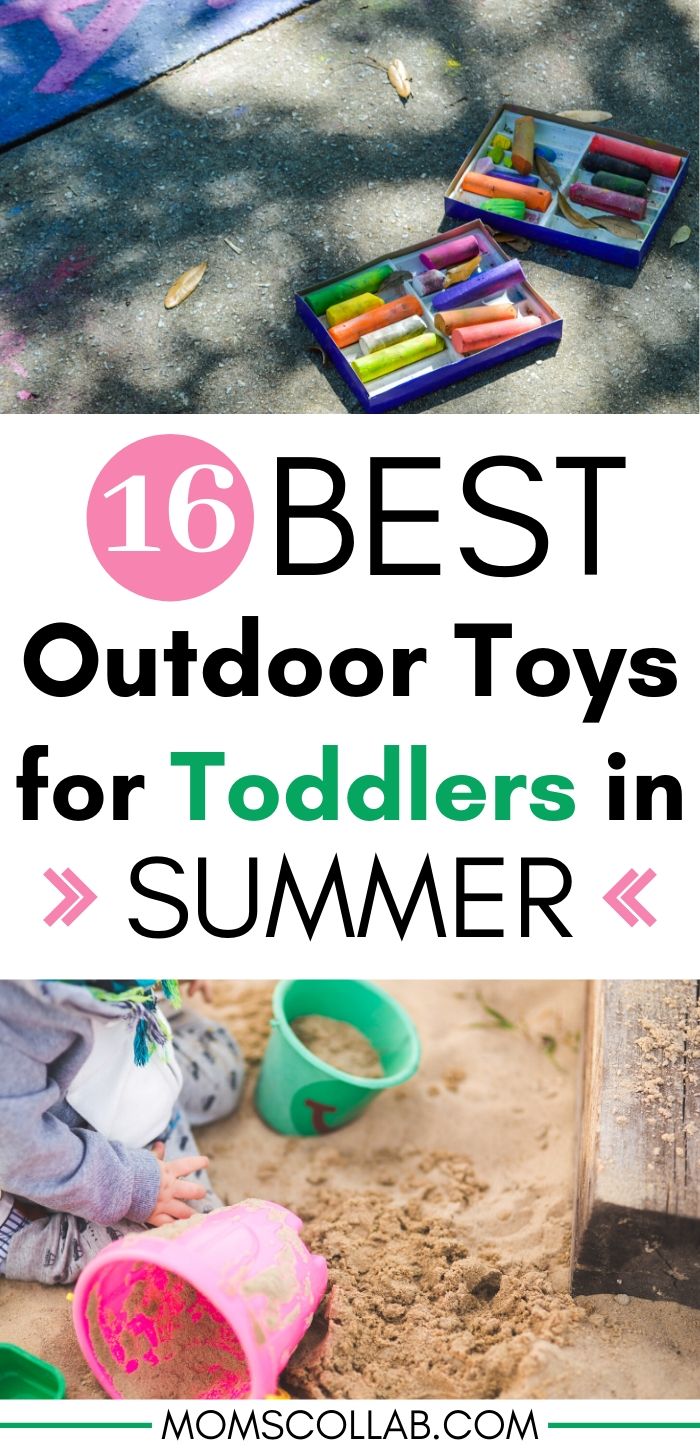 16 Summer Outdoor Toys for Toddlers
We've made it easy for you and narrowed it down to the 16 best outdoor summer toddler toys out there – so sit back in your lawn chair, grab a cool drink, and scroll through these amazing, toddler-tested outdoor toys to add to your summer's outdoor fun!
Cheap Outdoor Toys for Toddlers ($15 or less)
Play Day Max Water Blaster
This six-pack water blaster set means fun for your toddler AND fun for you! Join in the play with your toddler with these easy to use outdoor water blasters as they shoot water up to 25 feet. Take them to the beach or use them in the pool – these blasters are a total summer favorite. Made of sturdy, shape-holding foam, these will last for a whole season of play.
Theefun Bubble Machine
A classic favorite with a modern spin, this automatic bubble machine will be sure to give outdoor toddler toy joy! The Theefun Bubble Machine pumps up to 500 bubbles per minute, which is sure to keep your toddler mesmerized and engaged in tons of bubble fun. This bubble machine is perfect for outdoors, easily portable and lightweight for a summer of outdoor toy fun for toddlers!
Crayola 64-Count Sidewalk Chalk Set
If your toddler is a creative genius (and is over putting everything in her mouth!), then sidewalk chalk is one of the most fun, budget-friendly summer staples!
For toddlers 3+, sidewalk chalk is a must-have for any household. Draw shapes, trace hands, and feet, build towns – anything is possible with sidewalk chalk. This Crayola sidewalk chalk is a favorite because of its easy-to-hold, sturdy design and a vast supply of colors for your toddler's creative imagination to run wild with. Open up her creative side with a summer of outdoor play with sidewalk chalk.
Giant Bubbles
For any aged toddler, older siblings and even mom and dad, this most affordable option of all is sure to be a hit for your entire family. Your toddler will be awed by this giant bubble recipe.
With easy to find ingredients and minimal time to make, giant bubbles will transform your outdoor play to next level fun. These bubbles can get as big or bigger than your toddler, so go grab this easy list of ingredients and create a family fun night with some DIY giant bubbles!
Melissa & Doug Seaside Sidekicks Sand-and-Water Sifting Funnel
For a fun and engaging outdoor water toy, choose this Melissa & Doug sand and water sifting tunnel, perfect for your toddler's developing cognitive and motor skills. As they pour water into the top funnel, they can enjoy taking part in seeing water take its path downward through the funnels and sifting trays. This outdoor summer toddler toy helps them interact with water and gravity in a fun and interesting way. And at this price, there isn't a better outdoor water funnel toy for your toddler!
Best Outdoor Water Toys for Toddlers
Step2 Naturally Playful Sand and Water Table
This sectioned water table creates hours of fun for both water and sand! Use one half for water and one half for sand – or use both halves for water. The possibilities are only limited by your child's imagination.
The built-in track and accessories that come with the water table allows for all-day creative outdoor toddler play. With a handy umbrella to shade your toddler's precious skin from the heat and sun, this sand and water table is a must-have outdoor toddler toy for summer days.
Step2 Rain Showers Splash Pond Water Table
This Step2 Rain Showers Splash Pond Water Table is one to behold. Coming with plenty of accessories to keep the fun going, this splash pond water table creates a unique experience for your toddler as they play safely with water. It includes a fun rainfall feature that feels like a soft rain on your toddlers skin as they splash and play.
The top deck can funnel down into the bottom over a series of spouts and gears for an interactive water experience. This splash pond water table is sure to keep your toddler busy outdoors every day.
QPAU Sprinkler
When you can't always get to the splash park, or it's just too crowded for your young toddler, you can bring the splash park right to you with this super fun splash play mat! With soft inflatable material and adjustable water heights, your toddler can play outdoors safely while enjoying all the benefits of a splash pad right in your own backyard. Break out the swimsuits and sunscreen for a day full of fun with this great outdoor summer toddler toy!
Toddler Outdoor Ride on Toys
Little People Fisher-Price Music Parade Ride-On
For the new toddler, this Fisher Price Music Parade Ride-on toy is the perfect outdoor toy as he learns his skills as a new walker! He can push on the back for balance or ride on the front for those beautiful summer days outside. The interactive toy plays music and stores prized possessions under the seat. This ride-on toy is a sure hit for the toddler who loves to be mobile outside!
Radio Flyer 500 Ride-On with Ramp
For the thrill seeker in your toddler, this Radio Flyer Ride-On with ramp will certainly provide the adventure they seek! This outdoor toddler toy is sure to be a hit with its 6+ feet of racetrack. The ramp gives a fun yet safe riding joy for your toddler. Guided side rails give parents peace of mind while your toddler races off into the sunset with this fun summer outdoor toddler toy.
Radio Flyer Scoot 2 Scooter Ride On
This two in one ride-on scooter is the perfect scooter to learn and grow with your toddler. For young toddlers, this outdoor toy provides a convenient seat while scooting and has extra storage underneath for small toys. As your child grows, the seat easily flips down and the handles adjust to a more traditional scooter for endless outdoor toddler toy fun!
Strider 12 Sport Balance Bike
The Strider Sport Balance Bike allows your toddler to learn how to balance on a bike without the stress of pedals. This bike grows with your child with adjustable seat and handles and is lightweight for any age to begin learning. Getting the balance down gives your toddler confidence in his skills as he learns bike safety and enjoys the thrill of autonomy on a balance bike!
Best Outdoor Playsets for Toddlers
Step2 Naturally Playful Sandbox
A sandbox can provide some of the most fun summer outdoor memories for your toddler. Digging, playing, and creating, a sandbox helps open play for your toddler and the cover helps keep the sand nice and clean and dry from outside elements. This Step2 Naturally Playful Sandbox II is a sure hit for your toddler's summer outdoor toy list!
Homde Upgrade Version Flying Saucer Swing
One of the biggest new trends in outdoor toys is the flying saucer swing. Easy to play, safe for young children and fun for all, the saucer swing is popular for good reason. This Homde Flying Saucer Swing is built with soft materials, sturdy structural parts and adjustable height for any tree and will grow each summer season with your toddler. This saucer swing is a fantastic addition for your toddler's outdoor summer fun.
Little Tikes First Slide
One of the most enduring and ever-popular outdoor toddler toys is this Little Tikes First Slide. Toddlers love the up and down, climbing and sliding on their first slide! If your backyard doesn't have a Little Tikes First Slide, your toddler is missing out on this essential summer outdoor toy!
Step2 Happy Home Cottage & Grill Kids Playhouse
For a summer of outdoor fun, the Step2 Happy Home Cottage is a perfect toddler haven. This playhouse features shaded imaginative fun, with a doorbell, mailbox, outdoor grill and more. Your toddler can express himself endlessly with this fun outdoor toddler playhouse set!
Get The Kids Outside with These Fun Toddler Outdoor Toys
There's nothing like some fresh, summer air and a well-stocked backyard for an entire season of outdoor summer toddler toy fun! Take this list and run wild with the outdoor possibilities with your toddler. These are the most fantastic toddler outdoor toys for your summer, tailored specially for a full season of outdoor adventures together. Gather the little ones and head outside with these best toddler outdoor toys today!