20 of the Best Activities for Kids to Do in the Springtime
Last Updated May 03, 2020
This post may contain affiliate links. Please see my full disclosure policy for details.
How do you make springtime a fun time for your kids? Is it the simple outings you take with them? Or the memorable projects you do together at home?
No matter the activity, springtime is a great time for kids to explore outdoors and find new spring activities for them to do.
Each year, our house is focused on spring cleaning and getting ready for summer. We go through all our closets and dressers to get rid of older clothes. We find ways to donate unused items in our home.
Finally, we tackle the garage and try to organize things. The kids are less than thrilled with any of these tasks, which makes it challenging to get them involved.
However, what I didn't realize was that we were so focused on getting ready for summer that we forgot to enjoy what spring had to offer. With all the cleaning, purging, and donating, my family wasn't taking the time to enjoy the warmer weather or connect with each other.
No longer will spring fall to the wayside! This year, we will be intentional about how we spend our spring days connecting as a family.
Spring activities can be just as fun and memorable as summer activities. Here are some fun and easy activities to incorporate this spring with your kids.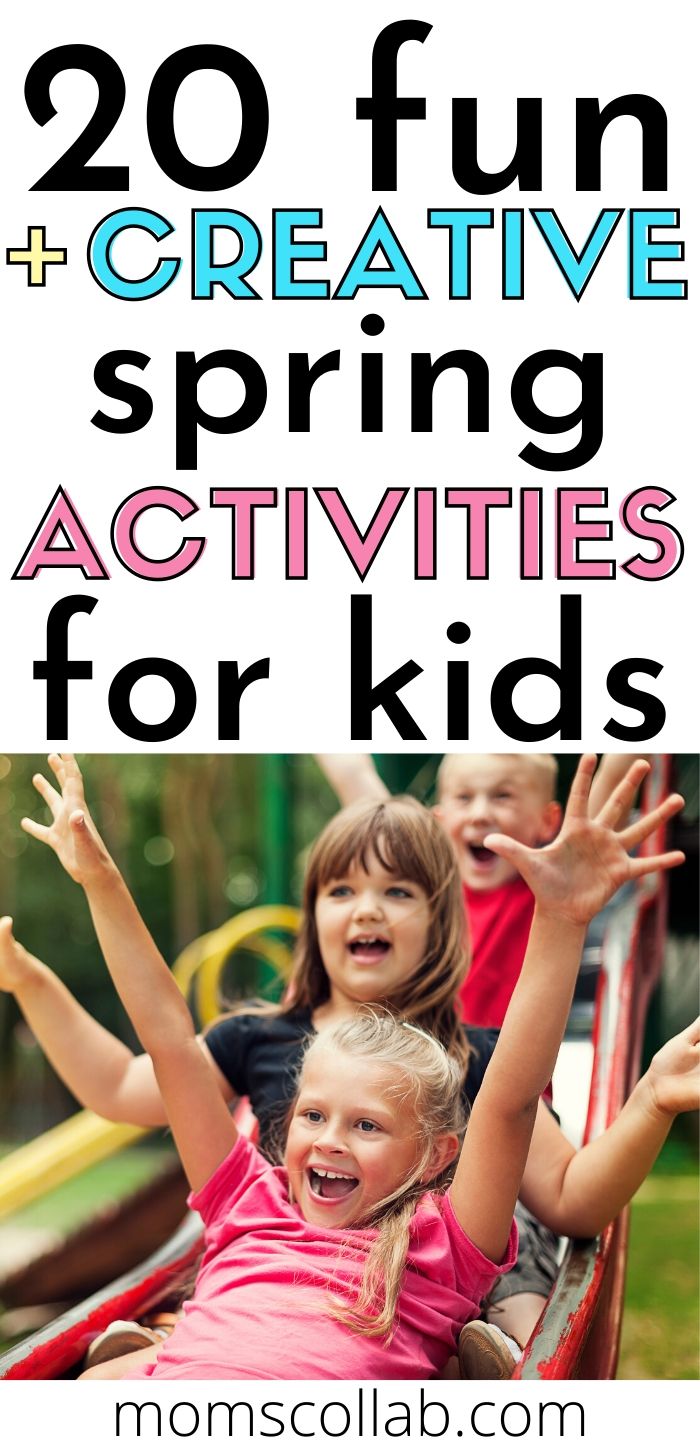 20 Spring Activities for Kids
There is no better time to incorporate some outdoor activities and crafts with your kids than during spring. Each activity here will help you connect, learn, and grow with your kids' imaginations. Make this spring one to remember!
1. Scavenger Hunt
Indoor Scavenger Hunt Printables
Related: 5 Steps To An Unforgettable Indoor Scavenger Hunt
2. Dino Eggs Dig Kit
3. Race Car Wood Craft Kit
Related: 16 Best Outdoor Toys For Toddlers To Enjoy Summer
4. Fuzzy Poster Assortment
5. DIY Wooden Birdhouses
6. Backpack Nature Explorer
7. Slime Making Kit
Related: Easy Slime Recipe With Borax And Glue Is A Favorite For Kids!
8. Spring Wooden Chimes
Related: 11 Activities For An Only Child That Are Easy And Enjoyable
9. Jumbo Paper Pinwheels
10. Foam Flower Wreath
11. Outdoor Gardening for Kids
Related: How To Use Lemon Seed Starter Kits To Grow Plants Indoors
12. Stained Glass Sun Catchers
Related: 46 Craft Materials You Can Find In Your Own Home (For Free)
13. Paper Mâché Flower Pots
14. Paint Your Own Stepping Stones
Related: Easy Rock Painting Ideas For Beginners (And Where To Buy Supplies)
15. Dinosaur Fairy Garden in a Jar Terrarium Kit
16. Pottery Wheel Craft Kit
17. Backyard Birding Flashcards
18. Crystal Growing Science Experiment
19. Outdoor Nature Scavenger Hunt
20. Color Your Own Wooden Bug Keychain
Related: 65 Outdoor Activities For Kids To Enjoy The Best Summer Ever!
Which Spring Activities Will Your Kids Enjoy?
With the various opportunities to spend time outdoors this spring, how do you most look forward to spending the warm spring days? We love having the opportunity to liven up our home with crafts and DIY projects that are handmade. Spring time is the perfect time to begin new traditions!
Whether you have younger or older kids in your household, there are plenty of opportunities to incorporate some spring activities.
How will these activities for kids make a difference in your spring this year? Have you already tried some of these spring activities for kids? What was your experience and which activities did your kids like the most?