4 Fun Saturday Night Dinner Ideas that Cost Less Than $10
Last Updated Aug 20, 2020
This post may contain affiliate links. Please see my full disclosure policy for details.
It's finally here. The weekend. The hustle and bustle of everyday life takes a temporary hiatus as you and your family enjoy some rest. These fun Saturday night dinner ideas will bring even the toughest weeks to an enjoyable end!
For once, your calendar has nothing on it. Typical Saturday night plans include a movie, dinner out and of course a coffee or dessert. But for the average family of four, those nights on the town can cost hundreds of dollars per week!
My husband and I seem to have an addiction to Outback Steakhouse (him) and Olive Garden (ME!). We find ourselves paying $50-60 for a delicious meal, $30 for popcorn and a movie, $9 for Starbucks coffees and $20 for a sitter. Wow, these nights easily cost us $119 if not more!
So what can you do to incorporate family meals on a budget? I'm here to tell you that you can have just as much fun on a Saturday night with your family without spending a lot of money. They are totally worth it, but perhaps these fun family meals can curb the itch and help us limit the expensive frequency of "fancy" date nights!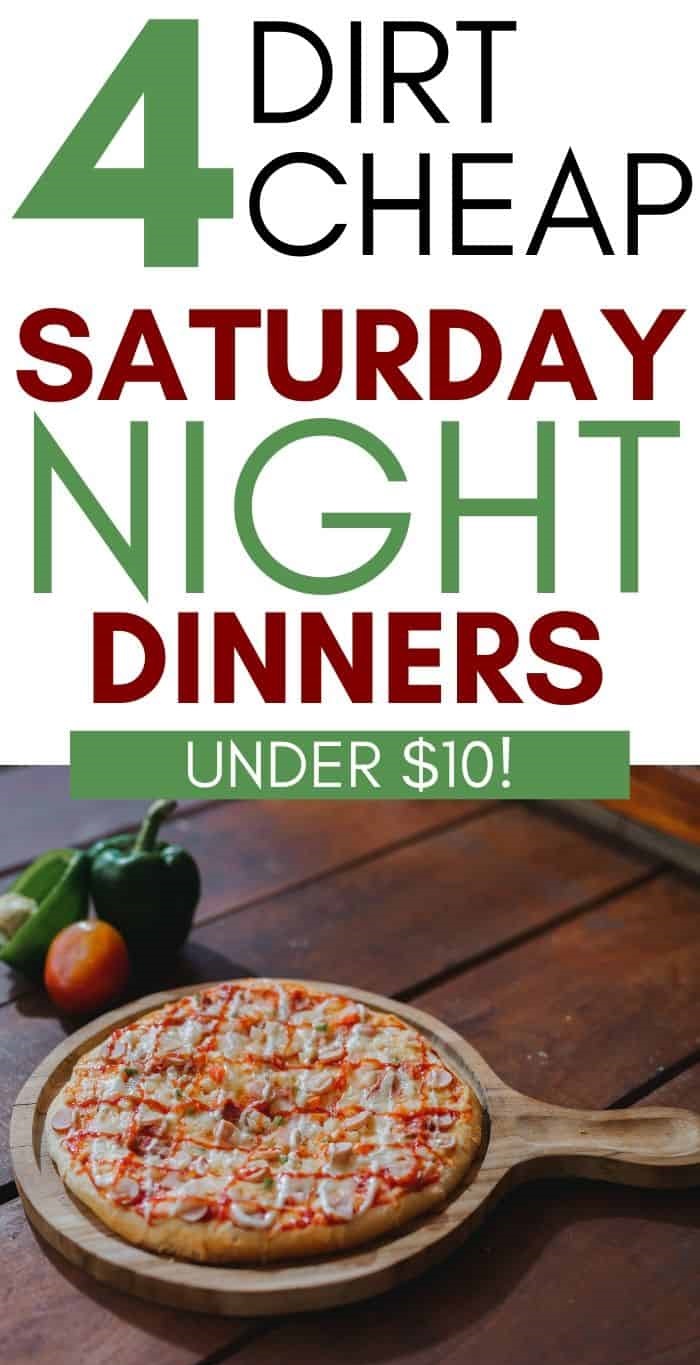 Fun Saturday night dinner ideas for the family
Pizza Party
Ah, the age-old question of "what to eat on a Saturday night at home." Can I just say that I love pizza? So naturally, pizza is my go-to for a simple Saturday night dinner!
Pizza is the one menu item that almost everyone enjoys. It is an ideal pick for supper on Saturday night at home (or really any night at home). While ordering a pizza can be relatively inexpensive, why not try serving up a slice by making your own?
The kids can have a lot of fun putting exactly what they want on a pizza. Throw their creations on a pizza stone, bake and enjoy!
Homemade pizza is easy and sure to become a Saturday night favorite! Your family will love preparing dinner and eating together. And you can enjoy your evening knowing the amount of money you saved by eating at home.
Main Ingredients:
Self-rising flour
Mozzarella
Pizza Sauce
Greek Yogurt
Toppings of choice (Pepperoni, Sausage, Bacon, etc.)
Total Cost: Between $7 – $9 for two pizzas
Quick reference pizza dough recipe
Suggested Appliance: Ceramic Pizza Stone

Did Someone Say Fondue? Cheese Please…
Most people associate fondue with a romantic dinner or a special gathering. But the fact is, fondue can also be a fun family dinner that is easy to prepare with unlimited fried dipping options.
If you need a fondue pot, there are an assortment of options to fit any budget and you will use it over and over! There are even fondue recipes that you can make in your crockpot or instapot!
Fondue takes time to heat through, so enjoy a board game or family conversation as you wait for a yummy and easy meal.
Main Ingredients:
Blocks of cheeses (swiss, cheddar, etc.)
Vanilla Extract
Chocolate chips (you can't say "fondue" without having a chocolate option for dessert!)
Crackers
Vegetables
Fruits
Total Cost: Between $8 – $10
Quick reference cheesy fondue recipe
Suggested Appliance: Fondue Pot
Fiesta Siesta
Another fun Saturday night dinner idea comes from South of the border. Tacos are an inexpensive and delicious family meal.
Tacos are also a quick meal you can put together in a matter of 20 minutes. Lay out the ingredients and allow your family to build their own tacos as you enjoy some time around the table. This refried bean recipe will have your family coming back for seconds.
Main Ingredients:
Taco shells
Ground beef
Lettuce
Cheese
Salsa
Sour Cream
Total Cost: Between $5 and $10
Quick reference refried beans recipe
Suggested Appliance: Tortilla Shell Pan
Take Me Home to the Ballgame
When the big game is on, we often order pizza or takeout. But why not enjoy the game and grill out some burgers and hot dogs before the game starts?
Take a spin on some burgers with some different toppings or cheeses to mix it up. Your family can enjoy pregame coverage while you prepare all your delicious creations. Best of all, your budget will get a "win" as well.
Main Ingredients:
Hamburgers
Hotdogs
Buns
Condiments
Total Cost: Between $8 to $10
Suggested Appliance: Indoor Grill
Incorporate These Family Meal Ideas on a Budget
Using these family meal ideas on a budget in place of frequent restaurant visits can help you save money each month!
So if you are looking for some fun Saturday night dinner ideas for your family, look no further. Grab the aprons, gather the family and enjoy a fun time together!
Those fancy dinner dates can wait. And save on movie costs by grabbing a Redbox movie or logging into Amazon Prime. If you limit how many times you grab dinner and a movie, you could save hundreds of dollars per month!
Know of other Fun Saturday Night Dinner Ideas?
What fun Saturday night dinner ideas do you love? Please share with me in the comments and make sure to share your recipe links! I love adding new, quick dinner ideas to the menu!