How to Make Dalgona Coffee (with a Hint of Cinnamon)
Last Updated Apr 09, 2020
This post may contain affiliate links. Please see my full disclosure policy for details.
When I first saw pictures of this amazing, fluffy coffee, I scoured my kitchen for instant coffee crystals. While it's not something we commonly keep in our house, I sure wanted to find some at that moment!
Sadly, after searching for what felt like an eternity (okay, 10 minutes, maybe?), I accepted the reality of the situation. I had none on hand. It put my plans on hold, but I ordered some online and patiently awaited its arrival. And oh boy, was it worth the wait!
Ta-da!
How is your current coffee working for you? Is it giving you the spark of energy needed to get through staying home with your kiddos? If you need some inspiration on how to spice up your coffee life, we've got something just for you!
Have you noticed those amazingly delicious whipped coffee pictures that are circulating Instagram? The chilled milk inside the glass with coffee slowly seeping down topped with a frothy coffee mixture. It looks like heaven in a cup. It's dalgona coffee!
This whipped coffee gives you that extra flavor and boosts your mood with just one look. Sounds like the perfect choice for a self-care morning! Add some cinnamon sticks and you'll never want to go back to regular coffee again.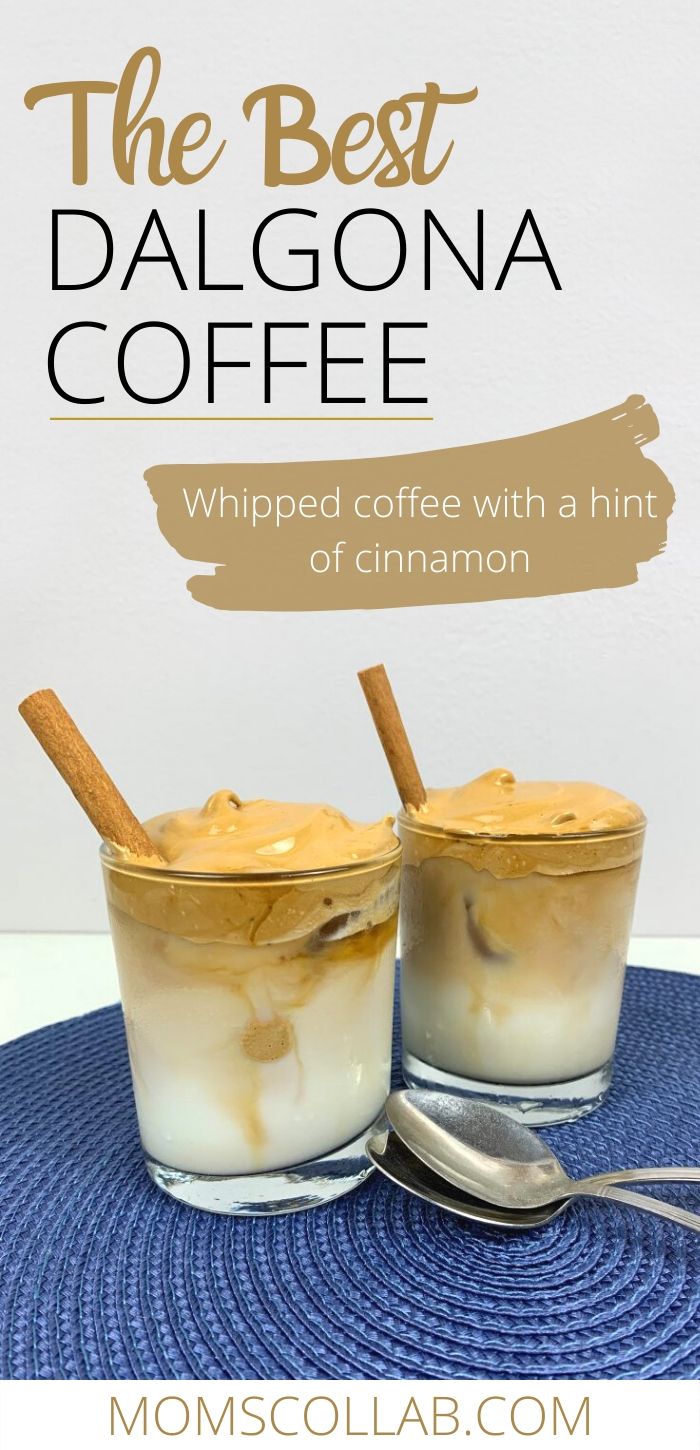 Dalgona Coffee Ingredients
The ingredients listed below are enough to make two generous servings: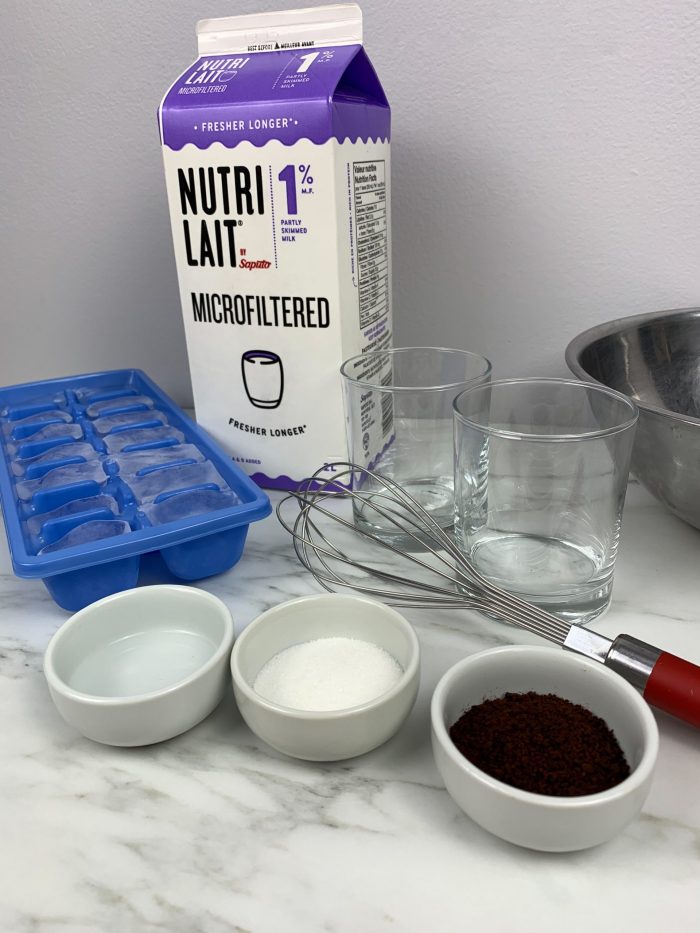 Note: If you like cinnamon, try adding a little burst of flavor to your coffee by stirring it with a cinnamon stick!
Easy Dalgona Coffee Recipe
Despite its fancy appearance, it is so easy to throw this recipe together in just a few minutes.
Step 1: Measure Your Ingredients
Add the 2 tbsp of instant coffee, sugar, and hot water into a medium-sized bowl.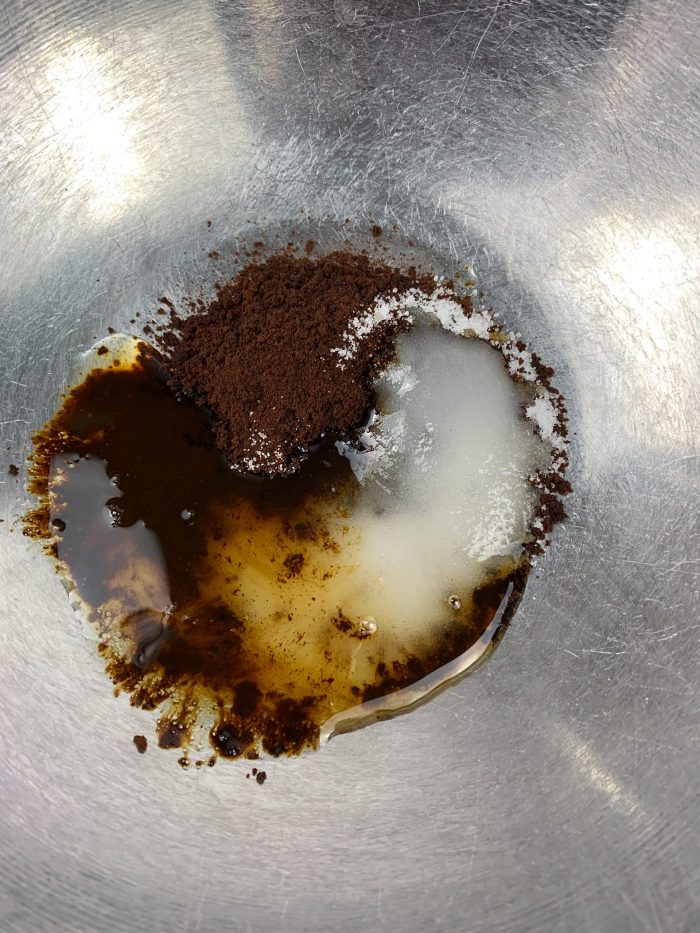 Step 2: Whisk It Up!
Whisk the mixture together. Using an electric hand mixer or Kitchen Aid will cut down on your prep time considerably. Beat the mixture until peaks are formed. Be careful not to splash it out of the bowl if you're doing this by hand.
Step 3: Pour The Milk
Pour some milk into a glass. Add some ice cubes. You will want it nice and chilled since the coffee mixture will still be warm.
Step 4: Add Whipped Coffee
Put two or three generous scoops of the whipped coffee mixture on top of your milk.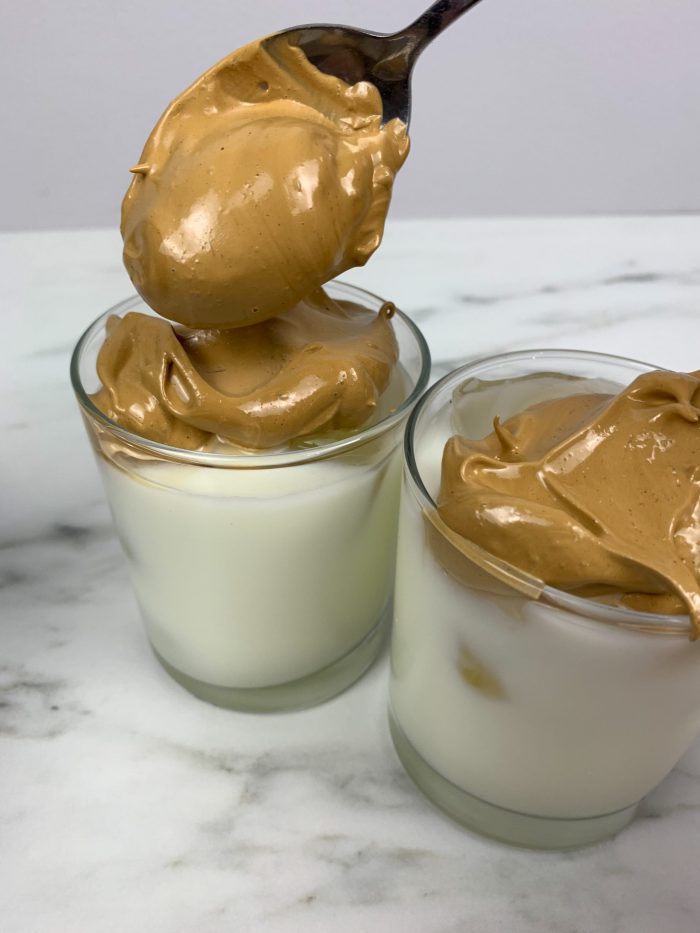 Step 5: Serve and Enjoy!
You can sip your iced coffee as is or mix it together to form a smooth, delicious drink. Try stirring it with a cinnamon stick for the extra kick of flavor!
Where Will You Enjoy Your Dalgona Coffee?
After making my delicious coffee, I try to enjoy it as long as possible. Some days, that means turning on an episode of Mickey Mouse Clubhouse for my son to watch while I sip and enjoy. Other days, this means letting him loose in the backyard while I sit in the spring sun savoring every sip!
However it works for you, dalgona coffee at least deserves a picture of you holding it for future reference. On the days when you can't make this special coffee, look back at the picture and remember better times are still ahead!
How will you enjoy your dalgona coffee?