11 Disney Princess Movies That Every Girl Needs to See
Last Updated Jan 05, 2021
This post may contain affiliate links. Please see my full disclosure policy for details.
I grew up loving everything Disney princess movies-related, like most little girls did. And what's not to love? They were brave, they were strong, they were adventurous, they always found their one true love – and they always looked beautiful doing it. Many other movie studios have tried their hand at fairy tales, but there's just nothing like the official Disney princesses.
Even though I'm an adult now, I still love re-watching the Disney princess movies of my childhood. These stories are timeless and nostalgic, and I can still lose myself in the magical worlds that Disney has created. It's so much fun to see the next generation get introduced to my favorite Disney princesses for the first time; to watch my niece growing up learning the Disney princess's names and seeing pictures of her dressed up as the characters I know and love.
Related post: Disney Movies List That You Can Download All For FREE
Disney Princess Movies List
The Disney princess movies are a rite of passage; a small piece of what makes a childhood magical; an opening into a world of imagination.
And we've compiled a list of 11 Disney princess movies that every girl (young or old) needs to see.
You're probably here to see the complete list of Disney princess names and pictures. So without further ado, here are the official Disney princess movies in order.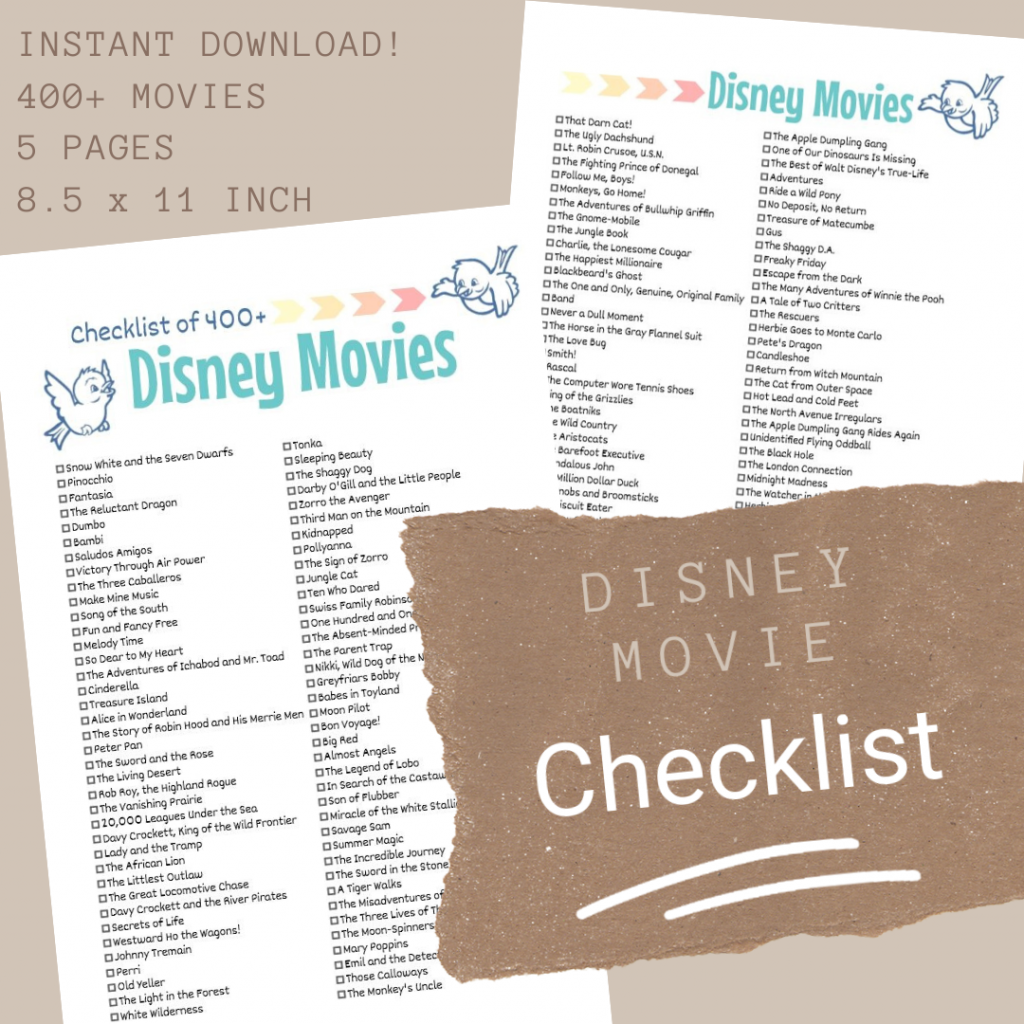 See Also: 53 Best Disney Movies For Toddlers That They Are Sure To Love
Disney Princess List
Disney Princess Snow White and the Seven Dwarfs (1937)
Snow White – the "fairest of them all" – is the titular princess of Disney's first animated feature film, and the first of the official Disney princess movies. The black-haired, red-lipped young beauty flees from her stepmother, the evil Queen who is bent on killing her for her looks, and finds herself in a cottage belonging to seven dwarfs. The princess, whose warbling voice is not unlike the forest animals that she befriends, makes herself useful in her new home, cleaning and cooking for Doc, Grumpy, Happy, Sleepy, Bashful, Sneezy and Dopey. When the Queen finds out that Snow White is alive and poisons her with an apple, the princess falls into a deep sleep – which is eventually broken by love's first kiss.
Two live-action (and much grittier) versions of the Snow White story (Snow White and the Huntsman and The Huntsman: Winter's War) were released in 2012 and 2016, respectively.
Lessons that can be learned from Princess Snow White: Never give up hope, be careful of strangers, goodness is often repaid, and friends can be found in unexpected places.
Bring Princess Snow White into your home with this fun memorabilia.
Disney Princess Cinderella (1950)
The story of Cinderella is probably what comes to everyone's minds when they think of Disney princess movies – and for good reason. Her fairytale castle stands majestically at the center of the Magic Kingdom at Walt Disney World, and her story is one that every little girl learns before she can even read or write. Cinderella loses her father and is forced to work as a scullery maid for her evil stepmother and stepsisters. That is, until her fairy godmother transforms her world by sending her to the royal ball, where she meets Prince Charming and falls in love. Though her stepmother tries to stand in her way, Cinderella finally marries her prince and lives happily ever after.
Walt Disney Pictures released a live-action version of Cinderella (featuring Lily James and Cate Blanchett) in 2015.
Lessons that can be learned from Princess Cinderella: Be kind, believe in your dreams, work hard, learn how to forgive, and know your self-worth.
All little princesses will love bringing home this Cinderella memorabilia.
Disney Princess Aurora in Sleeping Beauty (1959)
Aurora famously has the fewest lines of dialogue out of the Disney princess movies, but that doesn't stand in the way of her being a fan favorite. Her story was the last one that Disney told before founder Walt Disney died, and holds a special spot in the annals of the fairy tale world for that reason. Following her birth to the King and Queen, Princess Aurora is cursed by the evil fairy Maleficent to die before the sun sets on her 16th birthday. Horrified, the princess's parents send Aurora to live with three fairies deep in the woods, in an attempt to save her. Days before her 16th birthday, Aurora meets Prince Philip and falls in love. But Maleficent finds her and coaxes the princess to prick her finger on a spindle, sending her into a deep sleep. Love once again saves the day, Prince Philip kisses his princess awake, and the two live happily ever after.
A sequel to Disney's 2014 live-action hit Maleficent (featuring Angelina Jolie and Elle Fanning) is due to be released in 2020.
Lessons that can be learned from Princess Aurora in Sleeping Beauty: Listen to your elders, be brave, be patient, and don't talk to strangers.
Check out these fun Sleeping Beauty toys and mementos.
Disney Princess Ariel in The Little Mermaid (1989)
The Little Mermaid tells the story of Ariel, an underwater princess who dreams of becoming human. Following a chance encounter with Prince Eric, who lives on land, Ariel makes a deal with Ursula, a sea witch, to exchange her lovely voice for legs. Going against her father's wishes, Ariel leaves the sea to seek her true love, the Prince. The two spend some lovely time together, but Ursula decides to also transform herself into a human girl, and she steals the Prince from Ariel. The disguised sea witch and the Prince almost marry, but are thwarted by Ariel's father, King Triton. After a furious battle at sea, Ursula is defeated, Ariel decides to remain a human, and she and the Prince marry.
Disney Pictures has announced a live-action version of The Little Mermaid (spearheaded by Hamilton's Lin-Manuel Miranda), but a release date has not yet been decided.
Lessons that can be learned from Princess Ariel in The Little Mermaid: Focus on what's important, follow your dreams, face your fears, and find your voice.
Add to your official Disney princess collection with these Little Mermaid gems.
Disney Princess Belle in Beauty and the Beast (1991)
The plucky Princess Belle won the hearts of fans – and the Beast – alike when she arrived on the scene in the early 1990s. This princess loves books and learning, and supports her father Maurice, an inventor. When he goes missing in the woods, Belle sets out to find him – and find him she does, behind bars in the dungeon of a hideous Beast. Unbeknownst to Belle, the Beast was once human, but was cursed by an enchantress because of his selfish ways. He must find love before the last petal of an enchanted rose falls, and he soon develops feelings for Belle – but the princess takes a lot of convincing. When Belle finds out that her father is sick, the Beast lets her go, despairing of ever seeing her again. But the princess hears that a mob is attacking the Beast's castle, and she rushes in to save the day. When she professes her love to a wounded Beast, the curse is broken, he and the castle's servants turns back into humans, and the two live happily ever after.
A live-action adaptation of Beauty and the Beast (starring Emma Watson and Dan Stevens) was released in 2017.
Lessons that can be learned from Princess Belle in Beauty and the Beast: Inner beauty is better than outer beauty, never stop learning, look beyond what you can see, love is stronger than hate, and dare to be different.
Here are a few Princess Belle mementos that are sure to delight any little princess.
Disney Princess Jasmine in Aladdin (1992)
Princess Jasmine is a standout in a film that is ostensibly about the hero Aladdin. The charming, beautiful and cunning Princess Jasmine of Agrabah soon tires of her gilded prison. Although the kingdom requires her to marry a prince, Jasmine instead determines that she will wed someone she loves, whether or not he is of royal birth. Meanwhile, lowly street urchin Aladdin has released a Genie and, receiving three wishes, becomes Prince Ali Ababwa so he can woo the princess. But when the evil Jafar throws a wrench into his plans, Aladdin is forced to reveal his true identity in order to save Jasmine and release the Genie. The Sultan decides then to change the law and allow Princess Jasmine and Aladdin to marry.
A live-action Aladdin is due to be released on May 24, 2019.
Lessons that can be learned from Princess Jasmine in Aladdin: Lying never pays, life is too short to settle, be your own person, and never forget where you came from.
And now some great Princess Jasmine memorabilia!
Disney Princess Pocahontas (1995)
Pocahontas is inspired by the story of a real-life Native American woman. The Indian princess is afraid that she will be forced to marry a brave warrior she does not love, so she asks for advice from Grandmother Willow. The spiritual tree tells Pocahontas that the English are coming, so the princess heads to Jamestown and soon meets John Smith. Together, they attempt to bring peace between the tribe and the colonists, but Pocahontas's Indian suitor finds out that Smith and Pocahontas have fallen in love, and he tries to kill the Englishman. When the Indian warrior dies instead, and the Indians capture John Smith, all seems lost until Pocahontas convinces the two groups to stop the fighting. John Smith returns to England without Pocahontas, but with her father's blessing to return in the future.
Lessons that can be learned from Princess Pocahontas: Be bold, don't be materialistic, embrace change, be open to other cultures, and listen to your elders.
Here are some magical mementos featuring Princess Pocahontas.
Disney Princess Mulan (1998)
Mulan is a beautiful girl growing up in China during the Hun invasion. Determined to keep her frail father from being conscripted into the war, she disguises herself as a man so she can join the army in his stead. It soon becomes obvious that Mulan has had no training, but she soon becomes a skilled warrior, thanks to her study with Captain Li Shang. During a Hun invasion, Mulan saves the day, but is wounded – and her identity as a woman is revealed. She is expelled from the army but disguises herself again – this time in an attempt to infiltrate the emperor's palace, which is being occupied by the Huns. She helps to finally defeat the country's enemies, and soon finds herself being wooed by none other than her former army captain.
Disney's live-action Mulan is scheduled to be released on March 27, 2020.
Lessons that can be learned from Princess Mulan: Accept others, family is important, be strong, follow your heart, and never give up.
Little ladies will love checking out this Mulan memorabilia.
Disney Princess Tiana in The Princess and the Frog (2009)
The first Disney princess movie to feature an African-American heroine, The Princess and the Frog follows Tiana, a young woman determined to open her own business. Although she promised her dying father that she would turn a rundown sugar mill into a restaurant, Tiana finds out that she has been outbid in her quest to buy the mill, and wishes on a star for the money. A talking frog listening nearby – the handsome but cursed Prince Naveen – promises to give her the money if she turns him human again by kissing him. She agrees, but instead becomes a frog herself. The two amphibians set out on a series of zany adventures and soon fall in love. They eventually confess their attraction and marry. Becoming human again, Naveen and Tiana buy the sugar mill and open it as "Tiana's Palace."
Lessons that can be learned from Princess Tiana in The Princess and the Frog: Have a vision, take action, follow your passion, stay focused, and take time to smell the roses.
Here is some great memorabilia featuring Princess Tiana!
Disney Princess Rapunzel in Tangled (2010)
In Tangled, Mother Gothel has discovered a magical flower that can heal sickness and decay, and has used it for hundreds of years to retain her youth. But when the kingdom's queen falls ill while pregnant, soldiers take the flower to heal her. Mother Gothel finds that the newborn princess's golden hair contains the flower's magical powers, and abducts the baby. Eighteen years later, Rapunzel still lives with Mother Gothel, and her long golden hair has never been cut – for doing so will destroy its power. But Rapunzel longs to go see the sky lanterns she watches from her tower window, so she escapes the tower and convinces a thief named Flynn Rider to help her. The two make it to see the lanterns, but are soon found out, and Mother Gothel takes Rapunzel back to the tower. Rapunzel finally realizes that she is the lost princess, and that the sky lanterns are being released every year in her honor. Rider rescues her, Gothel is defeated, and the princess is finally reunited with her parents.
Lessons that can be learned from Princess Rapunzel in Tangled: Step out of your comfort zone, don't believe everything you hear, be kind to animals, and never give up.
Here are some Princess Rapunzel keepsakes that are sure to delight your little lady.
Disney Princess Merida in Brave (2012)
Rounding out the list of official Disney princess movies (newer characters like Anna, Elsa and Moana are expected to join the lineup soon) – and the first Pixar princess to make the list – is Merida, a brave, young Scottish woman. Although her parents host a clan archery competition to choose a husband for the tomboy spitfire, Merida wins the event and declares that she will not marry any of suitors. She asks a witch for a spell to change her fate, but the magical cake she receives turns her mother Eleanor into a bear. If the curse is not broken by the second sunset, it will be permanent. Believing Eleanor to be a real bear, Merida's father tries to defeat her, but their daughter saves Eleanor and kills an actual bear that is attacking her. Merida and Eleanor reunite and the spell is broken.
Lessons that can be learned from Princess Merida in Brave: Learn to forgive, family is important, admit your own faults, and it's true that a girl can be a hero.
Here is some awesome memorabilia featuring Princess Merida.
Disney Princess Movies – Memories That Will Last A Lifetime
Despite the fact that they each have their own unique stories, the official Disney princess movies sometimes meet – in magical memorabilia that every little girl will love.
Get reacquainted with the magical princesses you love by watching the Disney princess movies in order again – and maybe introduce them to the next generation. Hopefully this Disney princess list has inspired you to revisit the magical world of your imagination. After all, like Walt Disney said, "Laughter is timeless, imagination has no age, and dreams are forever."
Related post: 88 Animated Disney Movies That You Need To Watch