The Top 10 Alarm Clocks for Kids
Last Updated May 01, 2020
This post may contain affiliate links. Please see my full disclosure policy for details.
As a parent, I can completely appreciate the opportunity to get more sleep. My child is still pretty young so I know sleep is not something I can fully get right now. However, when the time comes, I am looking forward to introducing him to an alarm clock that will help him learn when he should be coming to wake me!
Alarm clocks are important for kids to have in their rooms. For the young ones, the clock is a way for them to recognize their numbers. As they get older, they learn to correlate time with each part of the day.
Finally, they get to the point in their childhood where an alarm clock helps them stay on top of their daily tasks and keeps them on a routine. Who knew how important an alarm clock could be in a kid's life?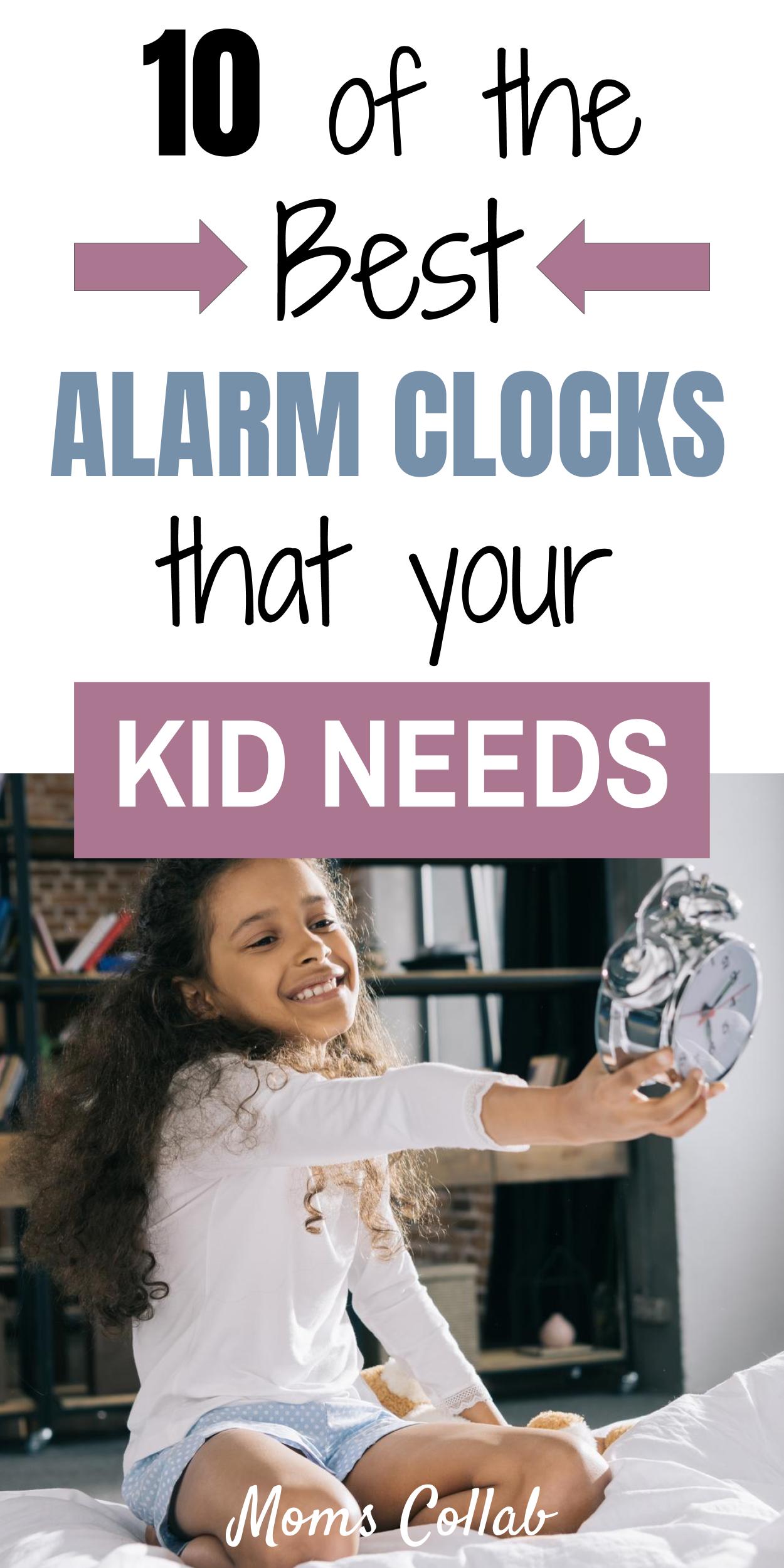 10 Awesome Kids Alarm Clocks
One of the top things to look for when considering awesome kid alarm clocks is what functionality will work best for your child. Some children in the same household may benefit from completely different styles of alarm clocks. Try to incorporate their tastes, styles, and opinions into the selection of their very own alarm clock!
"The two most powerful warriors are patience and time." -Leo Tolstoy
Implement the importance of patience and time into your kid's world beginning at an early age.
Related: The Best Journal Starter Kit To Inspire Your Kids To Write
1. LittleHippo Mella Ready to Rise
Great for young kids starting around three years old
Features:
Grows with your kid featuring three different sleep sounds for your kid to choose from. Additionally, there are five night light colors to help your kid get the best night's sleep to their favorite lighting.
This alarm clock has various colors and facial expressions to let your little one understand when it is time to wake up. The yellow light shows up half an hour before wake up time and then the green light illuminates when it is time!
Pros:
It works like it says;
Easy to use and program;
Eye catching design.
Cons:
Easy to unplug (which can be tempting for younger kids to touch);
No parent app to allow for programming from phone instead of using the buttons on the clock.
2. HomeLabs Sunrise Alarm Clock
Best for elementary-aged kids up to and including adults
Features:
Nature sounds and FM Radio options for you kid to choose from. Let them decide which sound they want to wake up to!
Eight colorful LED options provide plenty of light for a night light option or can be used as a side table light.
Pros:
Easy to set the time and alarm;
Soothing sounds;
Works as described.
Cons:
Various button options can make it too easy to accidentally shut off the scheduled alarm;
There is not an option for daylight savings settings.
Related: 18 Jumbo Lawn Games That Will Spice Up Any Outdoor Party
3. Mirari OK! to Wake Alarm Clock
Best for ages 3-5 years old
Features:
Green light indicator that lets your kid know when it is okay for them to get up so that parents can get more sleep.
Different animations your kids can choose from by tapping the alarm's toe and selecting which face they want displayed each day.
Pros:
Green light indicator works well for young kids to understand wake time;
Helps create routines for kids.
Cons:
USB cord that comes with the product is short, therefore, causing this product to need to be closer to an outlet in the room;
Nightlight has a timer not lasting more than two hours.
4. Learn & Climb Kids
Appropriate for toddler-aged children
Features:
Four color light changing system teaches your kid when it is time to wake.
Easy settings to use to program the clock and set wake times.
USB cord and adapter for immediate use right out of the box. Battery operated option as well just in case of a power outage.
Pros:
Easy to set-up;
Extra features like the storybook and reward chart system within the packaging;
Instructions were easy to use.
Cons:
Durability;
Some issues with the USB port becoming stuck.
Related: 16 Best Outdoor Toys For Toddlers To Enjoy Summer
5. Elecstars Touch Bedside Lamp
Great for kids of all ages, especially the tweens and up to college-age
Features:
5-in-1 functions: Bluetooth speaker, touch sensor LED lamp, alarm clock, MP3 player, and hands free call all in one alarm clock!
48 colors changing LED light to appeal to any of your kid's likes.
Large capacity rechargeable battery.
Pros:
Sound quality and volume are great;
Great design;
Colors of the light are attractive and can be used as a decorative piece.
Cons:
Set-up is complex;
Buttons aren't easy to use.
6. Home LED Digital Alarm Clock
Recommended for school-age children and older
Features:
Seven colored night lights for your kid to choose from.
Full range dimmer.
Plug in and easy operation alarm clock for kids to use.
Pros:
Easy to read;
Easy to use;
Works well and can be set-up easily.
Cons:
Dimmer is sensitive to the touch;
'Off' button is not easily accessible.
Related: 53 Best Disney Movies For Toddlers That They Are Sure To Love
7. LBell Colored Simulation Wake-Up Light
Recommended for tweens
Features:
Seven colored night light/sunrise simulation and sleep aid.
Dual alarm clock feature.
FM radio clock and USB port.
Pros:
White noise features are soothing;
Calming way to wake up instead of jolting awake like traditional alarm clock noises;
Able to charge other devices with the included USB port.
Cons:
Some challenges when programming;
Buttons aren't easy to manipulate;
Smaller in size.
8. Big Red Rooster Sleep Training Alarm Clock for Kids
Recommended for toddler boys and girls
Features:
Ball glows red to indicate time to sleep and will change to green to indicate when it is time to wake up.
Two alarms and a nap timer.
Utilizes an AC adapter, but includes a battery compartment as a backup.
Pros:
Easy to use;
Works like it says it does;
Improved sleep for both parents and kids.
Cons:
Buttons can be accessible and manipulative to the kids;
Battery power is used up quickly.
Related: 50 Funny Kids Quotes That Will Have You Laughing Hysterically
9. My Tot Clock Toddler Clock
Recommended for kids in the toddler age group
Features:
Plays bedtime stories, lullabies, wake up music, and white noise.
Energy saver.
Hidden parent control.
Uses five colors to help toddlers understand when it is bedtime, wake time, nap time, fun time, and thinking time/timeout.
Pros:
Easy to set;
Battery backup is included for power outages;
Helpful for sleep training.
Cons:
Smaller in size;
The blue light can be too bright for some.
10. Mpow Digital Curved Digital Alarm Clock
Best used by school-age kids and older
Features:
Blue LED display numbers with a dimmer for your adjusting needs.
Multiple alarm sounds to choose from.
Power adapter included.
Pros:
Easy to understand;
Nice alarm sounds;
Bright enough to see in the middle of the night.
Cons:
No battery backup (in the event of a power outage);
Snooze button is small.
Related: 32 Money Games For Kids That Will Teach Math And Counting
There's a Perfect Alarm Clock For Kids of All Ages
When considering the best alarm clocks for kids, make sure you include your kids in the decision making process as well. There are so many choices and variations of alarm clocks that will appeal to each kid differently.
Many of the alarm clocks listed here will grow with your kids as they get older and cross over through the various stages of their childhood. You might even find an alarm clock that you want for yourself!
What kind of features do you look for when searching for an alarm clock? How do you know you've found the perfect one for your kid?